Williams Distributing
Williams Distributing is a regional distributor of HVAC, Kitchen & Bath, Hearth and Garage Door products. The company stocks a massive inventory of quick ship products across more than 30 warehouses, which it delivers directly to customers on its own trucks throughout Michigan, Ohio, and Indiana.
A long-time legacy ERP customer, Williams Distributing experienced significant growth over the last decade and realized it wasn't a system they could continue to grow with. At the time, the company utilized customer service reps and an internal system for order intake, but to handle the growing influx of orders, knew that they needed to allow customers to place orders online via an eCommerce site that integrated seamlessly with their back end inventory and accounting system.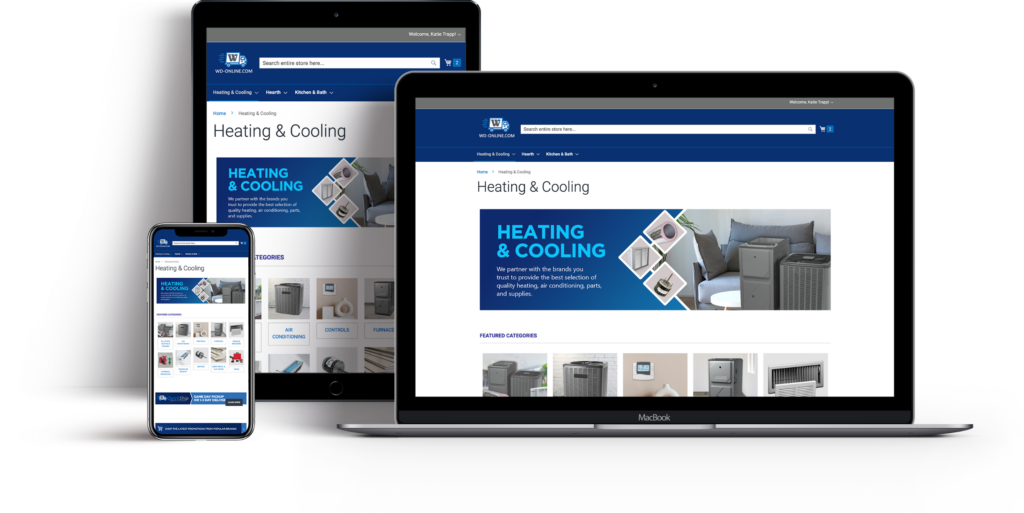 "We are extremely pleased to have worked with a team that understood our goals, knew the platform inside and out, and possessed the technical know-how to solve every challenge."
Director of Customer Experience
The company selected Epicor Prophet 21 for its new ERP platform and Adobe Commerce to deliver a modern online experience for customer purchases. Williams then turned to Human Element, recommended by Adobe for their experience and knowledge of both the industrial distribution market and Epicor, to design and integrate the two platforms together.
From the very beginning, Human Element understood Williams' goals to singularly source all data (customer, products, pricing) from Prophet 21 and display it in their Adobe Commerce storefront, and inversely export all of their online orders back to the ERP for internal processing and fulfillment within the Prophet 21 cloud. Human Element created the perfect marriage with these two platforms, leveraging Prophet 21's powerful database and processing capabilities with Adobe's superior eCommerce functionality and storefront experience, all leveraging a single-source-of-truth data model.
"Collaborating with the Williams Team on this project has been fruitful for both parties," explains Katie Trapp, Technical Project Manager. "We've continued to discover new B2B use cases that will help us evolve our ERP Connector product, and we've been able to equip the Williams team with the eCommerce knowledge they need to manage their business day-to-day."
By successfully integrating Williams' eCommerce and ERP systems together through custom-built API connectors, Human Element created a robust platform with real-time, seamless data exchange, eliminating the risk of duplicate data or the need to manage inefficient batch processes. The interconnected platform assures customers that all products, pricing, and inventory levels displayed in the online storefront are accurate and fully up to date.
"Above all else, it was the Human Element – the people – that stood out most."
Director of Customer Experience
"We are extremely pleased to have worked with a team that understood our goals, knew the platform inside and out, and possessed the technical know-how to solve every challenge," said Mike Vorce, Director of Customer Experience. "But above all else, it was the Human Element – the people – that stood out most, a team who cared deeply about our project and were dedicated to helping us succeed from beginning to end."