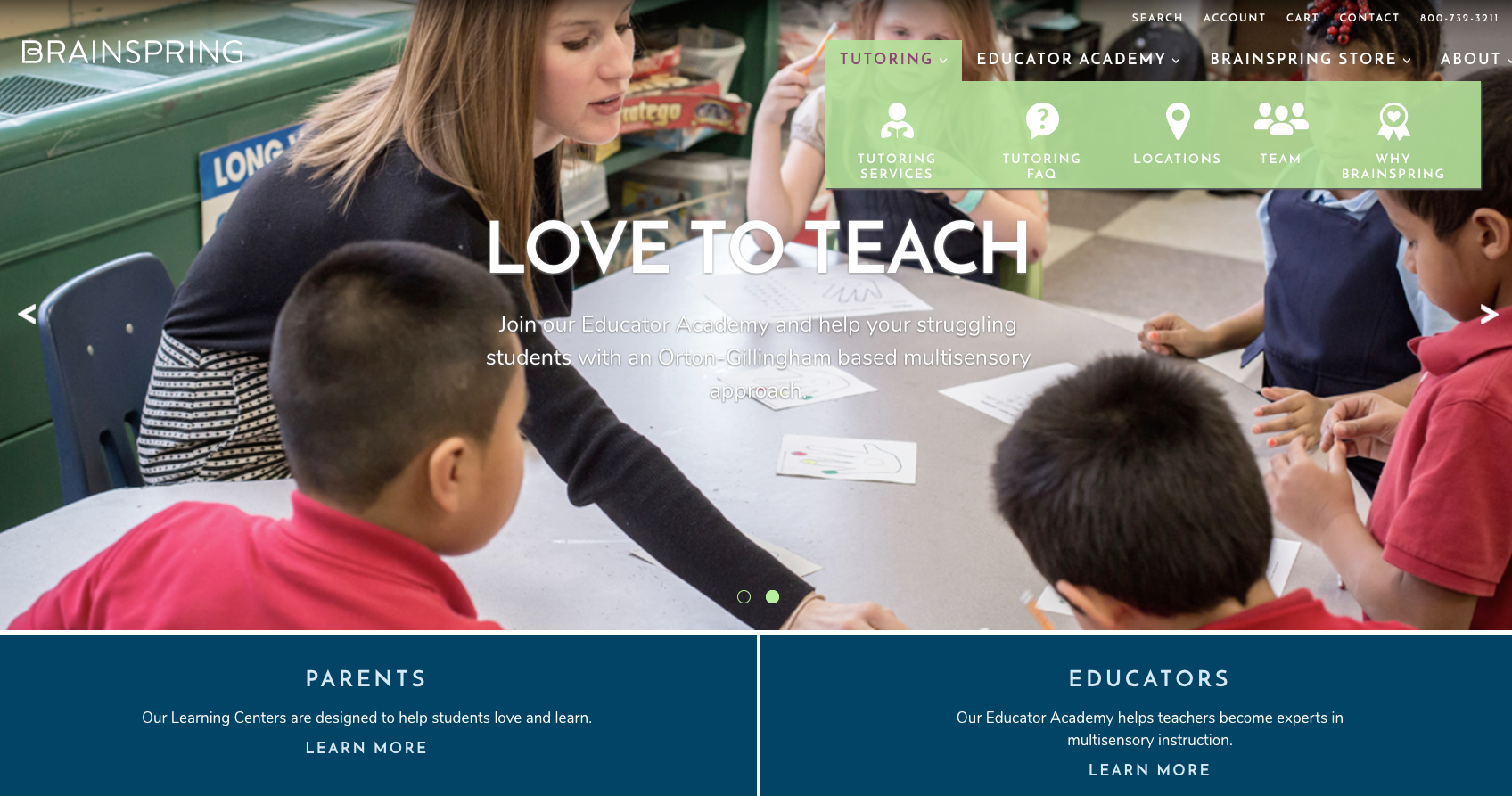 As you probably know, we Humans are always excited to go back to school. So you can imagine how amped we were when school came to us. Just in time for the summer semester, Brainspring, formerly known as Reading & Language Arts Centers (RLAC), teamed up with Human Element to enter a new world of eCommerce.
Ready to utilize the latest and greatest in eCommerce platforms from our friends at BigCommerce, and equipped with an updated and stylish look from creative genius Jon Moses at Ideation, Brainspring worked with Human Element to lay out a plan of attack: a complete site redesign, and a true rebranding into Brainspring from RLAC with careful attention  paid to the brand's two very different audiences – parents looking for tutoring services for their children, and educators looking for development opportunities through Brainspring's catalog of workshops, courses, and classes.
Unlike eCommerce stores constructing a new eCommerce experience from scratch, Brainspring maintained their existing catalog of previous RLAC products. Human Element used the new custom Stencil theming engine to build the custom BigCommerce template to showcase the new look and feel of the brand. Pages were designed to present a user with an intuitive navigation, helping them to identify the appropriate products, classes, and workshops quickly.
About Brainspring
Taking a new approach to childhood education, Brainspring's tutoring programs go beyond after-school mentoring and enhance learning both in and out of the classroom by engaging the student's mind through multi-sensory tools, techniques and lessons that break through even the most difficult learning barriers. Brainspring also offers an impressive catalog of courses featuring a curriculum for educators that is carefully designed to enhance student learning and bring their game-changing educational techniques into the classroom. The result: Alumni of Brainspring programs can be seen rising on dean's lists across in every district in their network. Their ever-expanding team and staggeringly quickly growing list of graduates is an eye-opening testament to the effectiveness and success of their program. Launching the new and improved Brainspring was a simple process that required limited assistance from a developer.
The Future
Now that the new look and feel has been launched on the BigCommerce platform, Human Element and Brainspring will be embarking on a longer-term partnership for maintenance and marketing services. Human Element's goal is to help Brainspring increase sales, optimize conversions, and maximize SEO potential in their new site. We're looking forward to this next step in our partnership.