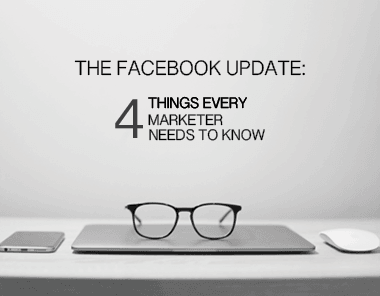 In the weeks since Mark Zuckerberg made the announcement detailing changes that will soon apply to the Facebook newsfeed, marketing professionals have scrambled to analyze the message and determine what these changes will mean for their 2018 strategy.
If you haven't already read the post, Zuckerberg, in brief, states that posts from managed pages are ruining the original purpose of the platform and are "crowding out the personal moments that lead us to connect more with each other." He goes on to explain that this will be amended by "focusing on helping you find relevant content to helping you have more meaningful social interactions," and that users will likely "see less public content like posts from businesses, brands, and media."
It isn't entirely unreasonable for marketers to receive this news and panic a little. Especially those that rely heavily on social media marketing campaigns – like many of our clients at Human Element. And while Zuck's message may have been lengthy, it left a lot of questions unanswered. What about boosted content? How often will public posts appear in a user's timeline with the new changes? Will they appear at all?
A lot of the answers to these questions won't be available until we're all in the thick of it and are able to really see how the changes affect post visibility. But there are some things we can deduce from the information we have, and our interpretation of this change leaves us feeling rather hopeful. Here are the four things every marketer needs to know moving forward:
1. Your followers are your most valuable assets
While organizations and businesses like eCommerce stores and brand pages will see a dip in visibility with this change, personal accounts will see a significant increase. What does that mean for you? It means that your influencers are your new best friends. And to maintain high organic visibility, you will need to rely on your followers to promote your company and its products or services.
Many eCommerce organizations have already utilized influencer marketing successfully on social media platforms. Companies like Daniel Wellington, Target, and The Honest Company have recruited thousands of consumers to promote their products on Facebook and Instagram, increasing followers and revenue substantially. In 2018, this "ambassador" strategy will see a significant increase in use by companies across the board – and you should be thinking about this strategy, too.
2. Engage or die
In addition to building relationships with personal social media users, engaging with followers will be more important than ever now. This is done in two ways: creating content that inspires users to engage (without being too obvious – see below) and continuing the conversation when it works.
Frequently check when your handle has been mentioned and respond. Tools like Hootsuite or Mention offer the service of social media mention tracking, putting all mentions of your company in one convenient place where you can respond to Susan of Memphis who tried your product and wants to know where she can find it again. Or when Bob of Sacramento publishes a scathing review to his profile and tags your company.
Get in there and keep the conversation going. Engagement increases visibility. Build out campaigns that make your followers want to join the conversation. Ask questions of your followers, and be sure to make it relevant to your content.
3. Don't Try To Be Sneaky
That said, Facebook will be cracking down hard on potential spam. Posts that include verbiage like "share this post for a chance to win…" or "like this post and be entered…" will likely be flagged and never seen. Instead, engage by offering followers the opportunity to show how they have used your product or services.
"Tell us your story" posts traditionally receive significant engagement as consumers are provided their five minutes of fame by posting an image or video of themselves eating their favorite flavor of ice cream or wearing the watch they purchased from your website. People like to be included, which is why posts that beg engagement used to show up frequently in the newsfeed. But as we said before, your visibility now in the hands of your ambassadors and followers.
4. Boosted Posts Are A Lifeline
While organic visibility of your posts may be dropping, the algorithm of boosted posts on Facebook will remain the same – for now. Any experienced social media marketer knows that if you have compelling content, setting a relevant audience and boosting the post for an appropriate amount of time (dependent on your campaign) is a must. This best practice is still effective with the impending changes to the newsfeed.
So while many of the strategies you employed in 2017 will likely be ineffective in the future, it isn't time to throw in the towel yet. Employing these new tactics can help keep your organization's reach grow even further despite the changes to the platform. After all, the marketing industry changes every day. Responding with creative solutions is what we do.