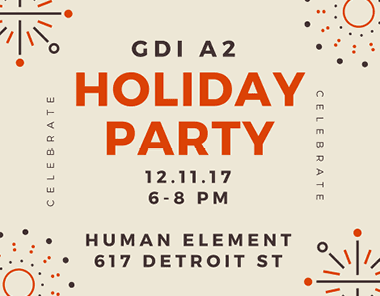 The Girl Develop It Ann Arbor Annual Holiday Party will take place at the fabulous Human Element Headquarters next month, featuring an evening of industry networking and a celebration of all of GDI's 2017 accomplishments. The event will be held from 6-8 pm, Monday, Dec. 11, and is open to the public, although limited tickets are available.
Girl Develop It is a national organization committed to empowering and assisting adult women interested in getting into and advancing in the tech industry. The GDI Ann Arbor chapter has an impressive list of highlights to reflect on for the year, including its 3rd anniversary, the monumental success of the organization's students, instructors, and teachers assistants, as well as the milestone of reaching a member base of 2,400 talented Ann Arbor tech professionals.
The December Holiday Party is not the first event that Human Element and Girl Develop It have partnered on to bring the tech community a unique, fun learning experience. Human Element came on as a Community Sponsor in January 2017, and the partnership has continued to grow into a fantastically beneficial friendship throughout the year, co-hosting Tech Trek 2017 together in June and working together to promote the growth of women in technology.
"We are so proud to have HE as a partner," said Emily Drier, Chapter Leader of Girl Develop It Ann Arbor. "Their team is supportive, and strongly stands behind our mission. Working with Dree and Cole has been a pleasure as we continuously look on how to strengthen our partnership, as well as our impact in the Ann Arbor tech community."
The team at Human Element is ecstatic to have the opportunity, once again, to host GDI and is looking forward to a fun evening celebrating the achievements of our friends on the GDI team.
Check out the event at the Girl Develop It Ann Arbor Meetup page and register your spot before all seats are filled! Registration is open through December 10.
Girl Develop It Holiday Party | Monday, Dec. 11 | 6-8 pm
Human Element Main Office | 617 Detroit St. Ann Arbor, MI 48104