One of the first U.S. VTEX Partners
Get on the cloud.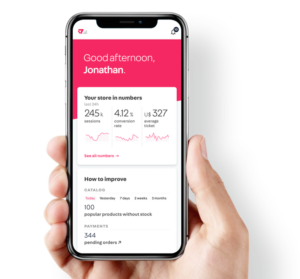 Why VTEX?
VTEX Commerce Cloud Platform offers retailers a versatile and extensible SaaS digital commerce. VTEX manages billions of sessions with an estimated Gross Merchandise Volume of more than $2 billion across 2,000 stores. Brands like Coca-Cola, Lego, Bosh, Sony, RedBull, Whirlpool, and Braun all trust their online presence to VTEX.
The VTEX organization is constantly challenging the future, bringing valuable knowledge to the table through a "hands-on" approach, and creating the means to start a dialog where we can all share new perspectives.
What Sets VTEX Apart?
100% Cloud Based
VTEX offers eCommerce businesses a cloud-based SaaS solution.
Smartcheckout™
Developed with the unique purpose to increase sales without compromising security. The first password-free, one page, 1-click-to-buy checkout.
Multi-store Functionality
Multiple brands? No problem. With VTEX you can define distinct layouts, pricing and products on each domain.
Customer Acquisition
Sell your products in 20+ natively integrated marketplaces, 2300+ VTEX stores, or become a marketplace yourself.
PCI DSS Certified
VTEX is SSAE 16 standards infrastructure audited, Sarbanes-Oxley compliant, and considered a 'low risk' by QualysGuard tool.
Omnichannel
Sell your products in your own marketplace, on the 2300+ VTEX Stores or 20+ Marketplaces such as Amazon and eBay.
A Strong Partnership
As a full-service digital agency, Human Element sees our partnership with VTEX as a natural expansion of our eCommerce development offerings. The VTEX teams are designed to continuously and autonomously evolve the platform in order to provide a state-of-the-art experience for customers.
VTEX Stats
Companies utilizing the VTEX platform have seen a 54% increase in conversion rates, and a significantly lower rate of cart abandonment. Utilizing the exclusive patent-pending SmartCheckout™ technology, VTEX presents an excellent option for checkout experience. Let's take a look at some other impressive statistics.
For each dollar generated by VTEX, 4 dollars were generated within the ecosystem
Contracts closed by the ecosystem in 2017
A Strong, Fresh Competitor
VTEX made the Gartner Quadrant this year as a Niche player, putting it among other complex eCommerce platforms like Shopify, BigCommerce and Magento. The VTEX team operates under the guiding belief that software functionalities can be developed, however trust and long-lasting relationships can only be earned. Aside from a comprehensive array of capabilities, an agile methodology and a lower total cost of ownership, VTEX prides itself on being forward thinkers and market influencers.