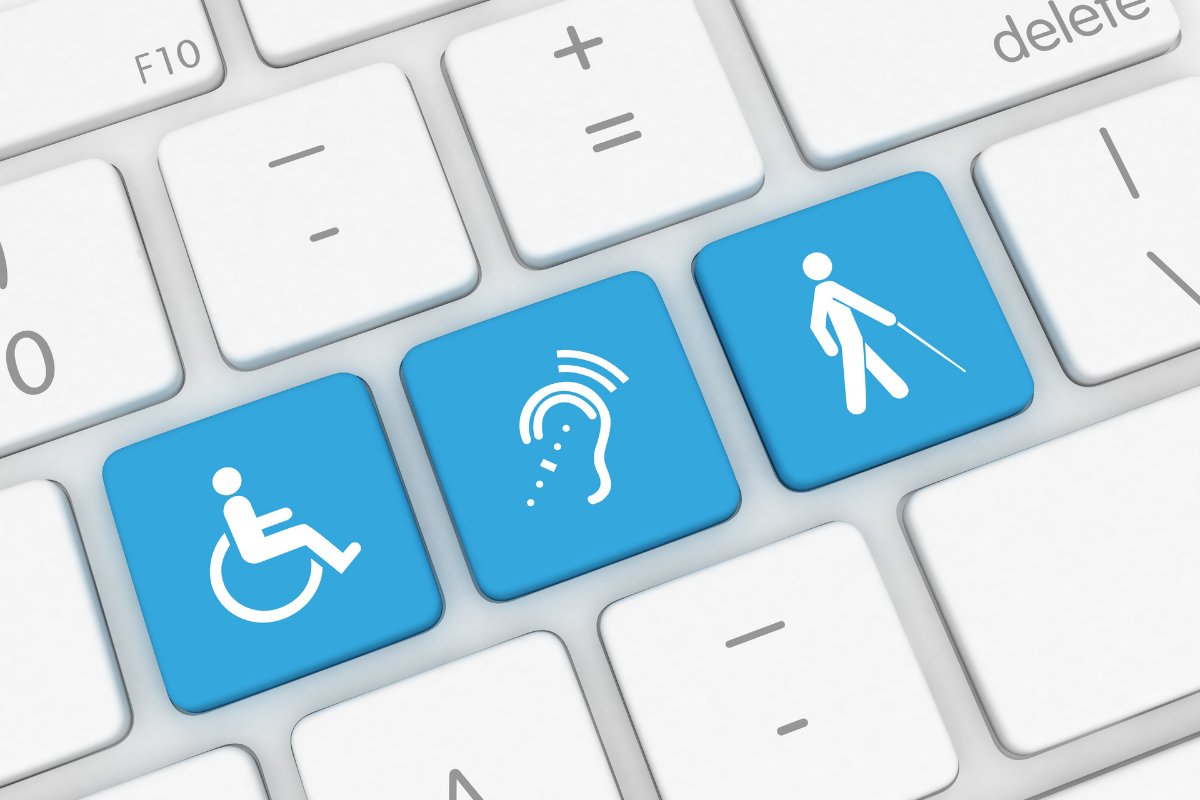 Isn't it convenient how the doors automatically open and close when you leave the grocery store with a cart full of groceries? How about when foreign movies have subtitles so you can follow the dialogue? Or that audiobooks are now commonly available? While these little conveniences make life easier, for many people, these are necessities for functioning in daily life. 
It took quite a bit of time for society to realize the importance of making daily activities more accessible to people with disabilities. Fortunately, in 1990, the Americans With Disabilities Act (ADA) was enacted to mandate that all "places of public accommodation" be accessible. Unfortunately, this language is vague and confusing as to whether it applies to digital spaces. As a result, a number of lawsuits were filed advocating that they do. Every year, not only have the number of lawsuits increased, but also the number of demand letters requiring that business owners make their website accessible. Over the years digital accessibility has been complicated, unclear, and expensive. While we have made great strides in making the physical world more accessible to people of all abilities, the digital world has some catching up to do. 
In March of 2022, the Department of Justice (DOJ) finally issued guidance clarifying that the ADA applies to websites. While the number of lawsuits and demand letters have been steadily increasing over the years, there has been a significant spike in ADA-based digital lawsuits since this announcement. In one week alone, there were 100 new cases of ADA digital lawsuits just in New York. While the broader impact of the DOJ's guidance is still unfolding, if you haven't already, now is the time to make your website accessible, especially if it's an eCommerce site.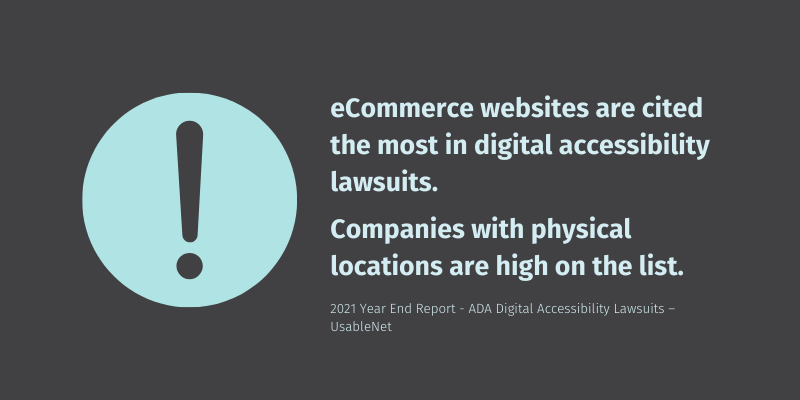 What is Digital Accessibility?
Digital Accessibility means that websites, mobile apps, and other digital tools and technologies are designed and developed to be accessible to all people regardless of ability. More specifically, everyone should be able to:
Perceive

Navigate

Understand

Interact with the Web

Contribute to the Web
Another way to understand accessibility is with these 4 key concepts. It's also how WCAG (the Web Content Accessibility Guidelines) are divided (more on that later). 
Perceivable

– People should be able to perceive all the informative elements on a website. For example, alternate text to non-decorative images that explain the image with a meaningful description.

Operable

– People should be able to operate and use interactive elements. For example, people should be able to tab through the clickable elements in a logical order without getting trapped.

Understandable

– Info must be Understandable. For example, text must be clearly written with proper hierarchy and in a logical order.

Robust

– The technology must be robust. Meaning as technology evolves, the content should remain accessible.
The types of disabilities that websites need to accommodate to are: 
Visual

– Is there enough contrast between text and the background color so that a visually impaired person can read it? Or can a screen reader read the content in a logical order?

Auditory

– Do videos have captions or a transcript?

Physical

– Can the clickable elements be tabbed through with a keyboard or navigated with assistive technology?

Speech

– Can someone type in what they want to say instead of speaking it?

Cognitive

– Is the content easy to understand?

Neurological disabilities

– Is the site compatible with assistive technology?

Socio-economic restrictions

– Does the site load quickly even with low bandwidth? 
It's a Win-Win
Digital Accessibility also benefits people without disabilities, for example:
People using mobile phones, smart watches, smart TVs, and other devices with small screens. Many of us use voice-to-text feature on our phones, which is especially convenient when we only have one hand available.

Older people with changing abilities due to aging.

People with "temporary disabilities," such as a broken arm or lost glasses.

People with "situational limitations" such as bright sunlight that reduces the visibility of your screen or in an environment where you cannot listen to audio, like at work.

People using a slow Internet connection, or who have limited or expensive bandwidth.
Digital accessibility is a many-headed beast that requires special solutions to topple, regardless of if you use Adobe Commerce (formerly Magento 2), Shopify, or BigCommerce.
Why Should I Care?
It's the right thing to do.
Digital Accessibility is important because first and foremost, it's the right thing to do. All people, regardless of ability, should be able to use websites without barriers. Especially now with the global shift to everything online. This started before COVID, but the pandemic has accelerated this significantly. Think of how reliant you are on the web. Now imagine being disabled and having only a small percentage of the websites you visit being accessible.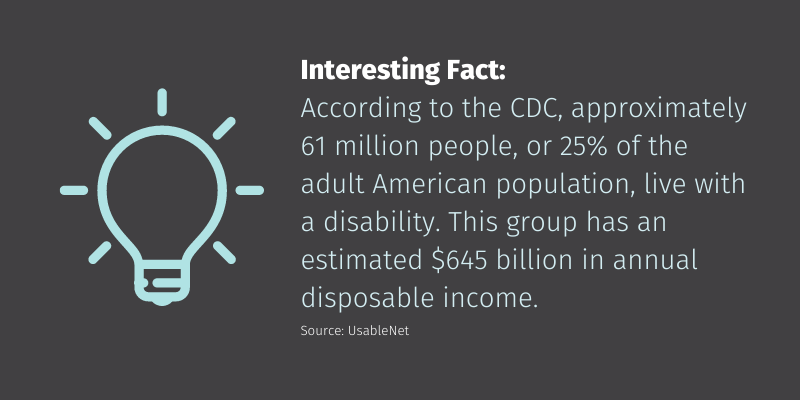 Accessibility Benefits Everyone
Accessible websites are easier for everyone to use, which is good for business. We get it; the bottom line is critical for businesses, but think of it this way: even if only 10% of your total customer base needs these services and optimizations (and it's a lot more than that), everyone benefits. That means a better UX and UI, a cleaner sales funnel with fewer abandoned carts, and the immeasurable benefit of customer trust. This applies to features and areas we often overlook due to convenience: the use of voice-to-text; larger, contrasted fonts for easy reading; fast page load speeds for slower internet connections. People are more likely to visit and use your website again if they have had a smooth, headache-free experience, which ultimately increases sales. Not coincidentally, these improvements are often cited to optimize SEO.
Accessibility, UX, and SEO Are Synergistic 
Accessibility best practices align with SEO and UX design best practices. Much of SEO is rooted in a good user experience. A good user experience consists of a solid architecture, clear information, elements that are easy to navigate and use, and effective communication. Think of it this way: search engines are just like blind users, so an accessible website with a good UX will help improve your SEO. 
It's the law
Last but not least, it's required by law. 
What Are The Legal Requirements?
This is where things get complicated. Now seems like the perfect time to mention something very important. While we can explain the accessibility landscape at a high-level, our ultimate recommendation will always be to consult with an attorney who specializes in Digital Accessibility and to engage with an accessibility company who specializes in applying accessibility standards to your website. The laws vary depending on location, and they are continually evolving. Figuring out an accessibility strategy is best done with experienced experts. When it comes to implementing accessibility processes during an initial build or during remediation, a development agency that understands your platform and accessibility best practices and can work with your accessibility company is your best bet (like us!). 
Federal Law
Now that that's out of the way, let's start by looking at the different types of law. 
First there is Federal Law. The Americans with Disabilities Act (ADA) is a federal law that was developed in 1990 and is meant to ensure that people with disabilities have the same opportunities as anyone else. The ADA requires that businesses that serve the public must ensure that their "places of public accommodation" are accessible by people with disabilities of various kinds. While the language used was appropriate for the time, the internet wasn't as significant as it is now. This vague language led to the ADA initially being interpreted to only include brick and mortar locations.
It was only recently that the DOJ officially recognized websites as being a part of the ADA. They declared that people with disabilities deserve to have an equal opportunity to access the services, goods, and programs provided by government and businesses, including when offered or communicated through websites. 
State Laws
In addition to federal law, websites must also adhere to State laws banning discrimination. Many states have their own laws, but the most notable are California, New York, and Florida, because that's where most of the lawsuits originate. In California, it's the Unruh Civil Rights Act; New York has a New York State Human Rights Law; and Florida has the Florida Americans with Disability Accessibility Implementation Act.
International Laws
If your company conducts business online in other countries, you are subject to those countries' laws as well.
Legal Ramifications
If your website has barriers that could prevent a disabled individual from using it, you are vulnerable to getting sued or receiving a demand letter. When plaintiffs file federal lawsuits under the ADA, they cannot sue for monetary damages. A plaintiff can only seek reimbursement of their legal fees as well as remediation of the inaccessibility in question. A plaintiff who files a lawsuit or sends a demand letter under state law can seek monetary damages. That's why most lawsuits are filed in state court and demand letters cite state law. 
Lawsuits are on the rise
UsableNet has published its 2021 findings report on digital ADA cases in the US and the trends are absolutely something to pay attention to. First off, the number of lawsuits continued to increase in 2021 at a rate of 15% over 2020. There were 4,055 lawsuits, which averages about 10 per day. Cases counted include those filed in federal court and those filed in state courts with a direct reference to violating  the ADA. One very important fact that to note is that these numbers only include lawsuits, NOT demand letters. 
Demand Letters
Demand letters that threaten litigation and seek an easy settlement for plaintiff firms are not documented in UsableNet's study because they are not recorded at all. It is clear in the industry that demand letters far outnumber federal and state lawsuits. Many describe this practice as a scam or similar to "ambulance-chasing", but it is rooted in law because websites should be accessible. The vast majority of demand letters target small and mid-sized businesses with settlements ranging in the $5K- $20K range, which doesn't include the cost of remediation. 
Multiple Lawsuits
Just because you have been sued once or received one demand letter doesn't mean you can't be the subject of another. Many companies receive multiple ADA-based lawsuits. Oftentimes a company will be subject to a lawsuit for the website and another for their app, or be sued by different plaintiffs. The bottom line is that if your digital properties are not accessible, there is a chance you may receive multiple lawsuits or demand letters, regardless of how many times a settlement has been reached. In fact, once you settle, you are essentially admitting that your website isn't accessible, which leaves you more vulnerable. The best course of action is to improve the accessibility of all digital properties.
Small to Medium-sized eCommerce Companies Need to Take Note
74% of lawsuits in 2021 targeted eCommerce companies. They make good targets because their websites tend to be complex, change frequently, and are more likely to utilize non-compliant 3rd party components. According to the report, 82% of those on the Internet Top 500 list have received digital-based ADA complaints over the past 4 years. In 2021, 20% were against the Top 500 eCommerce retailers. Those with a physical location as well (nexus) are particularly vulnerable. Trends indicate that smaller online retailers are increasingly being targeted. Most larger companies have already been sued and now have mature accessibility strategies in place. The pandemic also introduced many new and smaller online retail businesses. 
Avoid Overlay Widgets
The legal side of Digital Accessibility can be intimidating and there are companies out there who offer an Overlay Widget as a silver bullet solution. The overlay works by displaying an icon on the lower portion of the browser window that expands to show a dashboard where a user can adjust the display. Some include screen readers as well. It essentially uses javascript to "overlay" existing code. Unfortunately, it fails to fix the underlying code and provide the legal protection claimed. As people with disabilities will tell you, they tend to block or inhibit their native assistive technologies, like screen readers.
Even though the companies that offer this type of quick, cheap, and easy "solution" often guarantee protection from getting sued or a demand letter, this just isn't the case. Over 400 companies that use this type of feature were sued in 2021, and, the overlay widget was specifically identified as a barrier to equal access,. This means this type of approach gives plaintiffs more claims to add to a lawsuit, not less.
Even more interesting is how the Department of Justice specifically called out overlays as being helpful, but incomplete. To quote them:
Checking for accessibility. Automated accessibility checkers and overlays that identify or fix problems with your website can be helpful tools, but like other automated tools such as spelling or grammar checkers, they need to be used carefully. A "clean" report does not necessarily mean everything is accessible. Also, a report that includes a few errors does not necessarily mean there are accessibility barriers. Pairing a manual check of a website with the use of automated checkers can give you a better sense of the accessibility of your website.
Accessibility Standards
Now that we have a good understanding of what digital accessibility is and why it's important, let's discuss what accessibility standards exist. Legally speaking, there is some flexibility in how to make your website accessible. Businesses and state and local governments can currently choose how they will ensure that the programs, services, and goods they provide online are accessible to people with disabilities. While there is no legal standard, there is plenty of guidance.
Web Content Accessibility Guidelines (WCAG)
The gold standard for digital accessibility is the Web Content Accessibility Guidelines (WCAG) developed by the Web Accessibility Initiative of the World Wide Web Consortium (W3C). WCAG 2.1 is the current version, but there is a draft of 2.2 that is scheduled to be finalized by September 2022. They are also working on WCAG 3.0. There are 3 conformance levels: A, AA, and AAA. AA is the most commonly accepted level, not only in the United States but across the globe.
18F Accessibility Guide
18F is a digital services agency under the General Services Administration (GSA) that published a comprehensive accessibility guide with helpful resources.
Digital.gov
Digital.gov, which is part of the Technology Transformation Services at the GSA, has resources on design of products, devices, services, or environments for people with disabilities.
Section 508
The GSA published Section508.gov which has tools and training on implementing website accessibility requirements under Section 508. The U.S. Access Board published Section 508 Information and Communication Technology Accessibility Standards that address access to information and communication technology under Section 508 of the Rehabilitation Act of 1973.
Where do we go from here?
We know, Digital Accessibility is a lot to take in. Follow-up blog posts will provide a roadmap to attaining true accessibility for all. The next post will provide a roadmap for approaching Digital Accessibility with a general guide and some factors to consider when formulating a strategy. 
But if you're confused, overwhelmed, or concerned (and in all likelihood, you should be), reach out to us! We would love to hear from you. Whether you have questions, comments, or would like to discuss how we can help support your accessibility strategy. You can reach us at [email protected] or fill out this quick form!