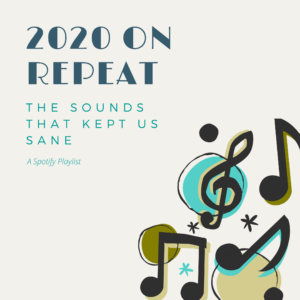 2020 has been…interesting. Quarantines, virtual school, working from home—so many new experiences that we've all weathered together. We've all found our own ways to push through. At Human Element, we are so, so grateful to our clients, professional partners, friends and families for helping us make the most of these odd and unprecedented times.
As we creep toward the new year, we would like to take a few moments to share with you some of the music, a core part of the Human Element company culture, that has helped us get through 2020. Music has been integral to the Human Element culture from the start. Managing partner Ben shares,
"I'm inspired each day by the team we've assembled. They are creative problem solvers and I learn something new from the team each day.
It's like sitting in with a great Jazz ensemble; each member plays their part to perfection and we leave room for each other to stand out and sometimes sit back and listen.
We learn from each others' performances and build on our own.  I guess I kinda view it like a band that riffs off of each other."
Throughout this past year, we've relied on music to calm, inspire, and rejuvenate our spirits, keeping us sane so that we can make our clients' sites shine! Last year's Elements of the Season holiday playlist is, of course, a December go-to.
This year, we reflected on the songs and albums that we played over and over again, and put together a Spotify playlist, 2020 on Repeat.  Here's a sneak peek:
Kevin Gardner
Ranier Fog
Alice in Chains
Cole Bednarski
Penny, Head's Up
Caamp
Bloom
The Paper Kites
Noah Wark
What Kinda Music
Tom Misch & Yussef Dayes
Andrea Evans
Admist the Chaos
Sara Bareilles
Here I Am
The Crane Wives
Sound & Color
Alabama Shakes
Emily Drier
The Big Day
Chance the Rapper
Rob Simmons
Buchla Concerts 1975
Suzanne Ciani
Stranger Things soundtrack, Vol 1
Kyle Dixon & Michael Stein
Dan Jablonski
El Camino
The Black Keys
Ryan Muir
Tearing at the Seams
Nathaniel Rateliff & The Night Sweats
Nathan Erickson
Rise / The Greatest
Jacob Sutherland
On the Outside
Gentri
Realize
Konomi Suzuki
Everlasting Shine
TOMARROW X TOGATHER
Dream Lantern
Caleb Hyles
Jenn Hayman
Better Oblivion Community Center
Better Oblivion Community Center
The Concept
Benjamin Gibbard
Dancing in the Dark
Lucy Dacus
This Must Be the Place
Miles Fisher
Circles
Dashboard Confessional
Enjoy the playlist and we'll see you in 2021!