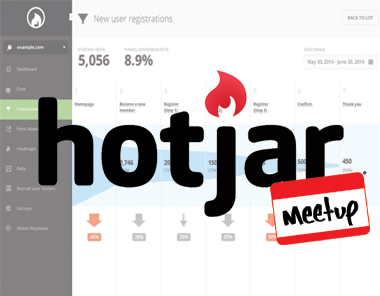 If you're spending hours browsing through your Website Analytics, looking for actionable slices of data, there may be a better way. Join us on Wednesday, Dec 2, from 6-8 p.m. for this exciting eCommerce Ann Arbor analytics session where we'll be exploring new ways to uncover WHY your website visitors do what they do. Specifically, our presenter Josh Frank of Test Triggers will teach us how to use Hotjar, a tool that provides visitor recordings, polls to uncover qualitative data, and much more. These tools and strategies are all designed to get you more conversions from your website without needing more traffic.
EVENT DETAILS
Who: eCommerce Ann Arbor Meetup Group. We Welcome All Guests!
What: Free Presentation and Discussion on Exploring Visitor Analytics with HotJar. There is no cost to attend. Human Element, as the sponsor will provide beer, wine, soda and snacks for all attendees. Full Event Details
Where: Human Element Offices. There's free parking in back and here's a map!
When: Dec. 2  6 p.m. – 8 p.m. RSVP HERE
What: Learn more about website and visitor analytics and how you can gain real, insightful data from software like Hotjar.
ABOUT OUR PRESENTER
Josh Frank is the Founder of Test Triggers, a conversion rate optimization agency. Test Triggers helps eCommerce and software companies get more sales through higher conversion rates. Visit his website at testtriggers.com.
PARKING
There is a parking lot behind the Phoenix West building along the railroad tracks. Please come inside and get a free parking pass from Human Element to use during the event.
We look forward to seeing you on Wednesday!