Providing the infrastructure, resources, and competencies for Data & Analytics
With increasing pressure to provide excellent customer experiences and deliver ROI, businesses must find innovative ways to differentiate themselves from competitors. Truly understanding what's happening with your business and customers, whether it's from the marketing or product perspective (or both), is crucial to making informed business decisions that will impact future success. Building a data warehouse is the first step in developing a healthy data strategy that can positively impact all aspects of your business.
Data warehousing is a technology that enables your organization to consolidate data from multiple sources (think of tools like your ERP and CRM systems, Google Analytics, marketing platforms, point of sale [POS], and more). Once it's gathered in one place, a single source of truth is established. From this central repository, you can then perform analysis and develop reporting specific to your needs.
In this blog post, we'll show you the benefits and features of a data warehouse solution.
What is a Data Warehouse?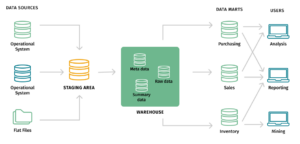 The data warehouse (DW or DWH), also known as an enterprise data warehouse (EDW), is considered a core component of business intelligence. Data warehouses are central repositories of integrated data from one or more disparate sources. They store current and historical data in a single place that's used for creating analytical reports for workers throughout the enterprise. This enables companies to perform queries and draw insights from their data in order to fully understand what's happening operationally and to guide future business decisions.
Benefits of a Data Warehouse
Data warehousing provides several benefits that can help businesses make better decisions and more effectively serve customers. If your organization hasn't yet adopted this technology, or even if your eCommerce and digital marketing verticals do not have this capability, building a custom solution is still time and cost effective.
Some of the benefits of data warehousing include:
Business Intelligence:
Data warehousing enables businesses to perform advanced analytics on their data, providing valuable insights into customer behavior, product performance, and overall business performance. This can help you identify trends and patterns that would otherwise be difficult to spot and enable you to take proactive measures to improve performance. Human Element can provide insights through the data warehouse that may otherwise be unavailable from the application's built in reporting suite. You may be able to use business intelligence tools your organization already has in place or implement tools we recommend.
Customer Insights:
With a data warehousing solution in place, you can learn more about your customers, including their preferences, buying habits, and demographics. Other important metrics that can be gleaned from your data are recency and frequency of customer visits and purchases as well as important metrics such as customer lifetime revenue and lifetime purchases. This information can be used to develop targeted marketing campaigns that are more likely to resonate with customers, improving loyalty and retention.
Product Performance:
Data warehousing also provides insights into how products perform in the marketplace. Metrics and analysis otherwise not available that can be provided through this solution are categorical roll-ups of purchases and revenue, product discount analysis, and geographical distribution of products. This information can help you make informed decisions about product development and marketing, leading to more successful products and better business outcomes.
Enhanced Decision Making:
Data warehousing provides businesses with the data you need to make informed decisions, allowing you to be more agile and responsive to market changes. In addition to the enhanced reporting abilities, the data warehouse can also integrate data from any other data source or application, such as your ERP system. This type of aggregation allows for a single view of disparate system data which can enhance decision making. This can help you stay ahead of the competition and adapt to changing customer needs.
Long Term Data Ownership:
Data warehousing ensures that you own your data for the long term, providing a valuable asset that can be leveraged over time to drive business growth and success. Having the data available means that future strategic decision making can be made based upon historical data. Understanding how specific types of products performed, how customers responded to marketing campaigns, and having the ability to clearly discern positive from negative outcomes of past decisions can impact performance in the future.
Data Ownership:
Data is the most increasingly valuable asset an organization can own. Any application the organization uses to conduct business collects valuable data that remains locked inside the application. The data warehouse allows you to collect and store that data in a centralized location in perpetuity. While you may choose to replatform your data with new technologies in the future, you can ensure that all of the data you have collected historically will remain intact within the data warehouse. If you do not store your data in an external system, you risk data being lost during the replatform process.
Features of Data Warehousing
Data warehousing provides businesses with a powerful tool for consolidating and analyzing data.
Some of the key features of data warehousing include:
Data Integration:
Integrating eCommerce data can be a key factor in getting a complete picture of what's happening with your business. For example, Human Element has created a proven integration of eCommerce data into a schema that provides the semantic layer needed to perform business intelligence. With this initial structure in place, it allows businesses to consolidate data from multiple sources and perform analytics on that data from a single source of truth. Examples of additional data sets that can be integrated into the data warehouse architecture include web analytics, manufacturing & production data, customer support, CRM, ERP, brick and mortar point of sale data, and supply chain and fulfillment application data.
Customizable Dashboards: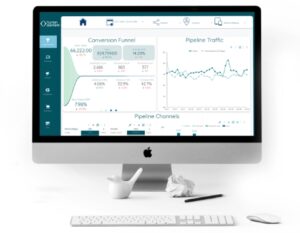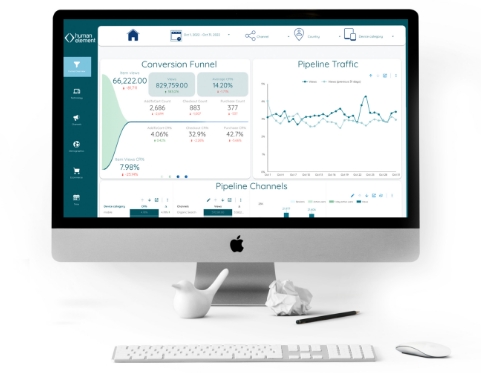 Data warehousing enables the creation of customizable dashboards that allow businesses to monitor key performance indicators (KPIs) and identify trends in real-time. While many applications have internal, application-specific reporting capabilities, most do not have the ability to bring in external data into the system for analysis, nor do they allow for customization of the reports provided. With the data warehouse, your eCommerce data could be used to integrate and report in conjunction with applications that provide information about production output, inventory, product seasonality, and marketing efforts in a single view.
Scalability:
The warehousing technology provided by Human Element is scalable and can grow with business needs. Whether your application begins performing more transactions or if additional data sources are added, the solution can scale to accommodate.
Stop Using Spreadsheets to Manage Your Data
In conclusion, data warehousing is an essential tool for any business that needs to effectively analyze data. Not only does it provide a centralized repository where vast amounts of data can be stored and accessed quickly and securely, but it also allows businesses to gain valuable insights into their customers' preferences and buying habits.
Additionally, the use of data warehousing eliminates many of the manual processes associated with traditional data collection and analysis, resulting in significant cost savings over time. By leveraging the power of data warehousing with eCommerce data as a starting point, businesses can gain invaluable insights that will help them make informed decisions and maximize their ROI.
***
We know this is a lot to digest. If you're curious to learn more, schedule a no-obligation, complimentary one-hour consultation with our data warehousing expert. We'll talk to you about where you are in your data journey and you'll come away with recommendations for the next steps.