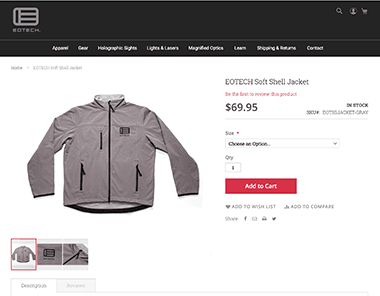 On September 1, Human Element launched a brand new Magento Commerce website for our long-standing client, EOTECH.
This successful Michigan-based optics manufacturing leader, now in its 22nd year of sales, ran their previous web store on a hosted platform. They made the decision to replatform to Magento Commerce (Formerly known as Magento 2 Enterprise) with the long-term goal of providing an enhanced user experience and creating a solid foundation for future growth.
The new EOTECH Gear Store features some cool new elements to make purchasing more user-friendly while enhancing workflows to decrease order processing time. For example, in addition to the standard credit card payment option, users can now use Apple Pay to finalize their purchase, making checkout much more efficient for mobile users. Customers may also browse the company's branded photos from Instagram on the EOTECH homepage, bringing modern social engagement right to the customer. In addition, full SSL support ensures transactions are secure and adhere to PCI compliant standards.
"Human Element's unique team atmosphere, flexibility and technical expertise helped EOTECH streamline and fast-track the development of this project resulting in a successful launch of the new Gear Store," said Jacob Fambrough, Marketing Manager and project lead for EOTECH.
In addition to the frontend features, Human Element implemented both ShipStation, one of Human Element's preferred shipping partners, and email marketing automation tool MailChimp, to provide a better user experience to the customer and help streamline work for EOTECH staff. Lastly, user group and shipping restrictions for customers ensure EOTECH abides by their legal guidelines without overly complicating manual interaction on orders. These changes have led to a significant reduction in order processing times and improved order accuracy.
Fambrough now operates and manages the EOTECH Magento 2 store, including making product and content updates, and deploying marketing initiatives to help grow their business even further with the ongoing assistance of the Human Element team.
"Upgrading to Magento is like going from iron sights to a HWS," said Fambrough. "The platform offers an incredible amount of scalability which I am confident will pave the way to helping us achieve our digital marketing goals and service our customers more efficiently."
Since the launch of the site, order volume has increased by approximately 2000 percent. With this drastic growth in order volume, EOTECH looks forward to putting this new platform to the test while enhancing internal processes and backend Magento functionally. This will require continuous improvement in order to support sales and service their current and future customers.
Providing process and development support to EOTECH is Human Element's new priority. Human Element looks forward to assisting with further website optimization and new custom features.