FOR IMMEDIATE RELEASE
Human Element, Inc. Named Silver-level Adobe Solution Partner
Ann Arbor-based eCommerce Development Agency Strengthens Position as Leading U.S. Services Provider for Magento Commerce
July 14, 2020, Ann Arbor, Michigan — Human Element, Inc. today announced that the company has achieved the level of Silver Partner within the Adobe Solution Partner Program. Silver partners are companies that have made a commitment to developing the skills required to design, develop, sell, and deploy solutions with confidence using Adobe Experience Cloud.
The Silver status was earned based on a deep commitment by Human Element to deliver quality experiences for clients through a growing relationship with Adobe, and through the development of a certified staff with the skills to take optimal advantage of powerful Adobe tools.
Adobe Solution Partner Program Business Criteria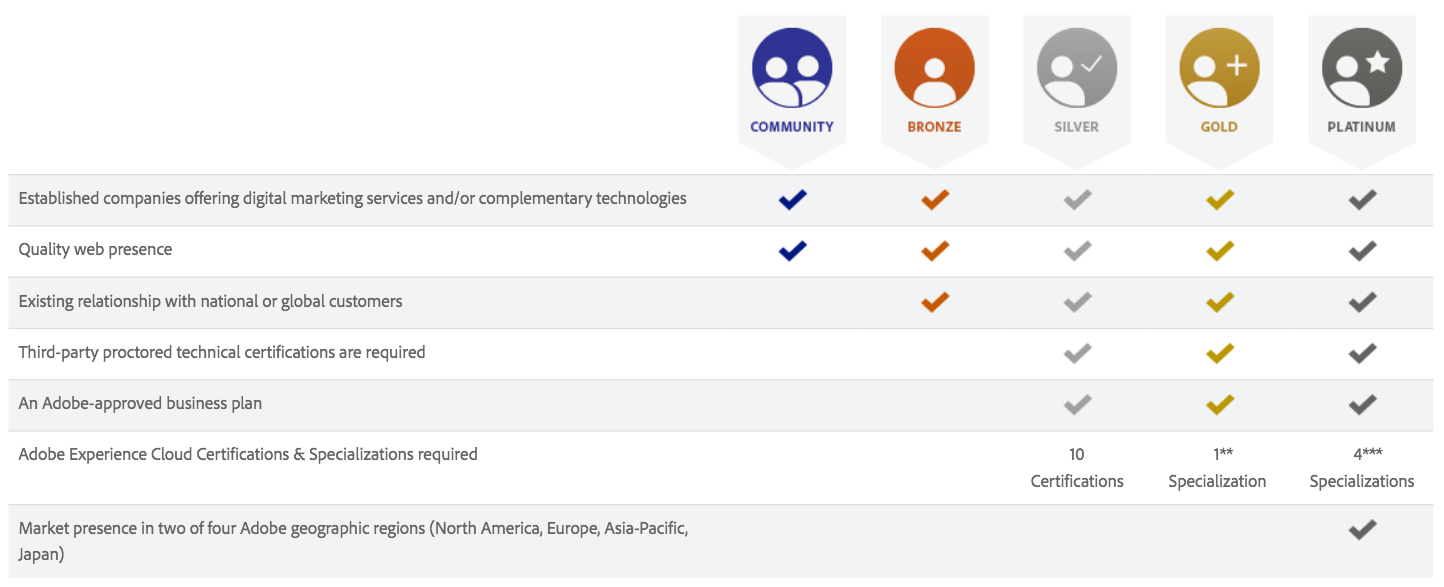 Also leading to the achievement has been the mutual growth rendered through project partnerships with clients maintaining highly visible brands, with B2B and B2C online stores serving a wide range of industries and market segments.
Now, with ready access to Adobe counterparts throughout project life cycles, company teams are able to get ahead on the most recent advances in the ever-evolving digital space and translate those developments into advantages for its clients.
The status is an intuitive next step in a long-lasting, mutually beneficial partnership with Magento which Adobe acquired in 2018 to solidify it as a globally-leading commerce platform.
"We've always been dedicated to offering on-shore resources, experienced consultants, and a proven process to propel success for our Magento clients," said Ben Lorenz, Managing Partner. "It's an honor to be rewarded for that success, and we look forward to building upon Adobe's powerful framework for continued growth together."
The announcement comes as the business faces the common challenges brought on by the global pandemic. As digital commerce saw a spike in demand while end-users stayed home, the company quickly pivoted their day-to-day operations to protect staff while avoiding interruptions in services, and helped clients adjust according to their unique supply, delivery and transaction models.
"The situation has shown us that, as a team, we can handle some uncertainty," said Lorenz. "When our clients are faced with challenging circumstances, their trust is reinforced when we can come through for them. So, we are immensely proud of our team members for the way they have been able to adapt and continue to deliver the level of quality that helps our clients maintain success."
###
About Human Element
Human Element, Inc. has been serving the unique needs of its North American clients, creating success for B2B and B2C online stores since 2004. While rooted in development and support for leading eCommerce technologies, Human Element has evolved to deliver a full spectrum of services – from strategic consulting to digital marketing – to clients with whom it forms long-term, strategic partnerships. Through its continued growth, professional partnerships with technology leaders and an emphasis on the value of human connection, the company continues to prove its status as a premier service provider in the ever-changing digital commerce industry.
About Adobe Experience Cloud
In the experience economy, every business must be a digital business and Adobe Experience Cloud is the global leader for powering digital businesses. With solutions for data and insights, content and personalization, customer journey management, commerce and advertising, Adobe Experience Cloud is driving Customer Experience Management (CXM) across both B2B and B2C for companies of every size. Adobe Experience Platform – the foundation of Adobe Experience Cloud – is the industry's first purpose-built CXM platform, enabling personalized customer experiences in real-time at scale.
About Adobe
Adobe is changing the world through digital experiences. For more information, visit www.adobe.com.
Human Element is more than just our name, it's our philosophy, and we incorporate it into everything we do. Putting people at the heart of our processes, we see our clients as strategic partners, becoming an extension of our client's team, and building long-lasting, collaborative relationships.
Are you looking for an implementation partner that continues to expand their expertise and relationships with the Adobe Experience Cloud ecosystem?
Get in touch.