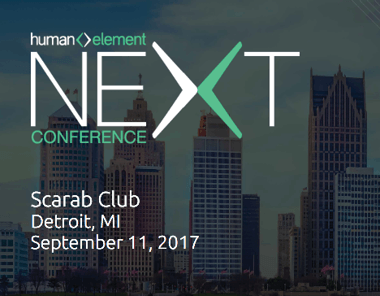 In the spring of 2011, we had an idea. An idea to share the tools and thought leadership used by the Human Element team that drove the organization to its incredible level of success. Six years later, after extensive work, research, and collaboration, that idea became NEXT: a symposium of knowledge sharing between Human Element and its clients.
The Human Element NEXT Client Conference will be held September 11, 2017 at Downtown Detroit's Historic Scarab Club. Registration to this free, all-day event is open only to current clients of Human Element and will include an exciting and informative lineup of discussions surrounding all things trending in eCommerce.
The Schedule
Speakers from Human Element's own experienced leadership team will be joined by members and leaders of their respective fields to provide a dynamic day of multifaceted learning. Human Element Managing Partner Ben Lorenz will open the day with a broad look into the eCommerce ecosystem, how to navigate and grow your business at a speed that works for you, and how Human Element can help you be successful in doing so.
Sponsors of the conference, Magento, Emarsys, and Nexcess will also speak on what is happening within their organizations and how the tools available can be utilized by your own eCommerce business. Nexcess VP of Channel Sales, Jerry Eadeh, will be offering guests first-hand knowledge of cloud hosting. From Emarsys, Account Executive Vanessa Pereira and Director of Channel Sales Joe Nicholas, have put together an incredible presentation looking into the future of digital marketing: artificial intelligence. And Magento's Justin Morrow, a Senior Solutions Consultant, will discuss The Road To Magento 2.
Also on the agenda, are the topics of Solving Problems Inside The Box, Navigating The Amazon Maze, AB Testing, Conversion Optimization, an Interactive Marketing Table, and the NEXT steps to take within your eCommerce organization.
For full agenda details, check out the NEXT Conference website.
The Venue
The Scarab Club is an enduring home for the cultivation and celebration of the visual, literary and performing arts in Detroit. During the NEXT Client Conference, multiple exhibitions will be on display for guests of the conference to enjoy.