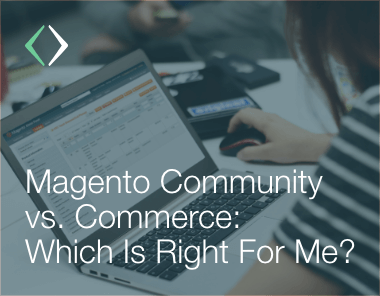 One of the most common questions I get when training team members who are new to Magento is: "What are some of the main differences between Magento 2 Commerce (Enterprise) and Open Source (Community) editions?" And "Would we recommend one over the other to a client?"
While I'd love to say that there are easy one-and-done answers to these questions, it's a bit more complicated than "yes" and "no." This is because the needs of every client are different. I think one of the more important things to understand as an up and coming store manager (especially if you work in an agency and need to manage both Commerce and Open Source) is what features come natively with Commerce, but are not included in the Open Source edition.
We've compiled a list of the built-in features only found in Magento 2 Commerce, highlighting a few that are of extra special use to most eCommerce store owners. Here is a quick breakdown:
Customers
Customer Segmentation – Market to and provide promotions to customers based on behaviors, actions or demographics.
Gift Registry
Multiple Wish Lists – While Open Source does have a wish list, Commerce provides customers with the ability to create multiple wish lists that they can share or just keep for themselves.
Rewards Program – Set up and manage a customer rewards program.
Gift Card
Store Credit
Order by SKU (aka Quick Order)
Custom Customer Attributes – If you need to collect additional data during registration or house additional data in the admin, you can utilize the custom customer attributes to get what you need.
Marketing
Email Reminders (promo reminders, abandoned cart) – Set up a promo and reminder users to come back to their cart to use it. Or alert users when something on their wish list is associated with a promotion.
Personalized banners/promos by customer segment
Versioned CMS
Content scheduling & staging
Social Media Integration (FB Store only)
Built in Google Tag Manager – Magento has always made it easy to add Google Analytics, but with M2 Commerce you can easily add a GTM container to track all kinds of tags.
Production Collections / Category Features
Category Permissions by Customer Group

Allow/disallow visible pricing
Allow/disallow Add to Cart

Private Sales – Create special sales events that are only accessible by invitation to specific users. Create a count down timer and email promos.
Search Options (Elastic Search)
Visual Merchandiser
Category Scheduling
Rule-based Product Matching
Products
Rules based related products
Gift Card product type – Allow customers to purchase and use gift cards using native Magento functionality.
Gift Wrapping
Orders / Fulfillment
Order Archive feature
Returns functionality (includes customer initiated returns) – Customers can initiate a returns process from their order details which can be processed from the Magento admin.
Admin & Configuration
Scheduling import/export
Admin Action Log
Magento Support Tool
Additional Reporting
Additional Payment Methods

Cybersource
Worldpay
eWAY

Amazon/1 Click Checkout
Additional Features
Magento B2B Feature

Customer Account Type for Companies

Ability to develop a hierarchy

Request a Quote
Additional Customer Permissions

Magento Cloud-Hosting (for now)
Considering a new platform for your eCommerce store? That's where Human Element steps in. Our team of experienced developers, digital marketing specialists, and UX experts can tell you what version of Magento will best suit the unique needs of your customers. Feel free to get in touch and see how we can help your eCommerce business grow.