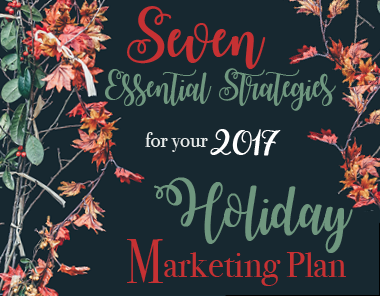 While most consumers are out trying to check off every item from their seemingly endless back-to-school list, eCommerce businesses know – the holidays are just around the corner. It's this time of year that Human Element begins encouraging clients to start fine tuning their holiday marketing strategy – because if you wait for the snow to start falling, you're going to be way behind your competitors.
eCommerce sales topped $91 billion dollars last year between Nov. 1 and Dec. 31 as digital shoppers filled their carts with every gift imaginable by humanity. And chances are, a few of those stocking stuffers came from your site. So how do you stay ahead of the game?
Start Early
We can't stress this enough. Take advantage of the late summer seasonal slowdown in online retail to plan and get a marketing strategy in place for the holiday season. You don't want to attempt rolling out a new feature or find yourself playing catch up when it matters. So do your experimenting and testing before the leaves start changing colors. This is the time to do some A/B testing: observe what messaging and channels resonate with your customers. Get moving on any redesign or optimizations projects now, whether that means implementing a new AI driven marketing extension or making your site more mobile-friendly, you don't want to stumble across a bug during your biggest revenue months. Most of our clients implement a code freeze during the busy holiday period to avoid any unforeseen consequences of pushing out new code. A golden rule is to plan to have everything in place and locked down a couple weeks prior to Thanksgiving.
Break down the Numbers
It's important to know what the trends are. Let's take a moment to break down that $91 billion number and look at the metrics. 2017 experienced:
Mobile Matters
You probably know this already, but in case you didn't; providing an optimized experience on mobile is crucial to growing your online sales and should be a key component in your holiday marketing strategy. Not only will this help your conversion rate and improve your customer experience, but SERPs will penalize your site rank if your site isn't mobile-friendly. Not sure how mobile compatible your site is? Run this simple test to find out.
Mobile shopping is the fastest growing segment in the industry with last year's Cyber Monday alone accounting for more than $1 billion in sales from mobile devices, a 34 percent increase year-over-year. If you aren't delivering a gratifying mobile experience, I can assure you that your competitors are and that your sales will suffer as a result.
Don't Drive Into Traffic Jams
Every year we hear horror stories about retailers that weren't prepared to handle the traffic coming to their site during the holiday rush. Neiman Marcus missed Black Friday completely in 2015 due to a site outage and Best Buy was in the hot seat the year prior, caught unprepared to handle the surge in mobile traffic to their site. Can you say "marketing strategy oops?" At Human Element, we've worked with clients to get their site back up during holiday traffic spikes – typically correlating to promotions and time sensitive deals. It's a lose-lose scenario.
Get ahead of the curve and analyze your traffic over the 4th quarter for each of the past few years. Look at key dates that align with big sales and marketing campaigns. Benchmark the time it takes for your site to load across multiple browsers and operating systems. Then reach out to your hosting provider and discuss solutions to ensure you are prepared to handle that big wave of customers waiting to pounce on your latest offering. Lastly, research and be prepared to have discussions about beefing up your server capacity, adding a CDN or testing out a load balancer to keep your site humming when you need it most. Like when thousands of people are looking for the products you sell.
See The Future
The online retail landscape is transforming at speeds that may rival Elon Musk's Hyperloop. So before you start packing for that end of the summer family beach vacation, update your RSS feed and bookmark your favorite sites. Highlight sources to keep abreast of industry news, plan for upcoming security updates that have been announced and make sure you're prepared for upcoming changes to web browsers and platforms. A good example of something to look for in this part of your marketing strategy is the recent announcement that Google made about their Chrome browser: beginning in October, Chrome will begin displaying the scary red "Not Secure" messaging on your site if it finds any page that has not moved over to HTTPS. Don't give your customers another reason to abandon your site and make their purchases elsewhere.
Don't Overlook Shipping
Don't miss those last minute shoppers! Start planning now to provide your customers with a snapshot of key shipping cutoff dates. For your 2017 holidays marketing strategy, you might want to consider creating a landing page or popup that calls out delivery cutoff dates so visitors can find this important information. We're making it easy for you with the cheatsheet below to help you get started.
Christmas Delivery Deadlines
Dec. 18 (Delivery by Friday, Dec. 22) – UPS 3 Day Select
Dec. 20 (Delivery by Friday, Dec. 22) – UPS 2nd Day Air
Dec. 21 (Delivery by Friday, Dec. 22) – UPS Next Day Air
FedEx 2016 Holiday Information
FedEx hasn't released their 2017 dates yet, below is a look at last year's deadlines.
Dec. 12 – Smartpost
Dec. 17 – Home Delivery & Ground Delivery
Dec. 20 – Express Save
Dec. 22 – 2-Day Shipments
Dec. 23 – Standard Overnight, Priority Overnight and First Overnight
Dec. 25 – SameDay Shipments
We're still waiting to hear the 2017 shipping deadlines, here's a look at last year.
Dec. 15 – USPS Retail Ground
Dec. 20 – First Class Mail
Dec. 21 – Priority Mail
Dec. 23 – Priority Mail Express
Getting The Human Element
If you're reading this and are filled with an overwhelming panic, take two big breaths. We're not going to just tell you the tips and tricks without also offering to help. If you aren't confident in your eCommerce business' internal know-how, or you simply don't have the time to invest in building a holiday marketing strategy, Human Element is here to save the day.
We utilize the most insightful, resourceful tools available in the industry and are able to run a complete audit of your business' current marketing to provide you with feedback on how to best prepare for the upcoming busy season. You'll work one-on-one with a member of our experienced marketing team to build a strategy sure to put 2017 sales through the roof.