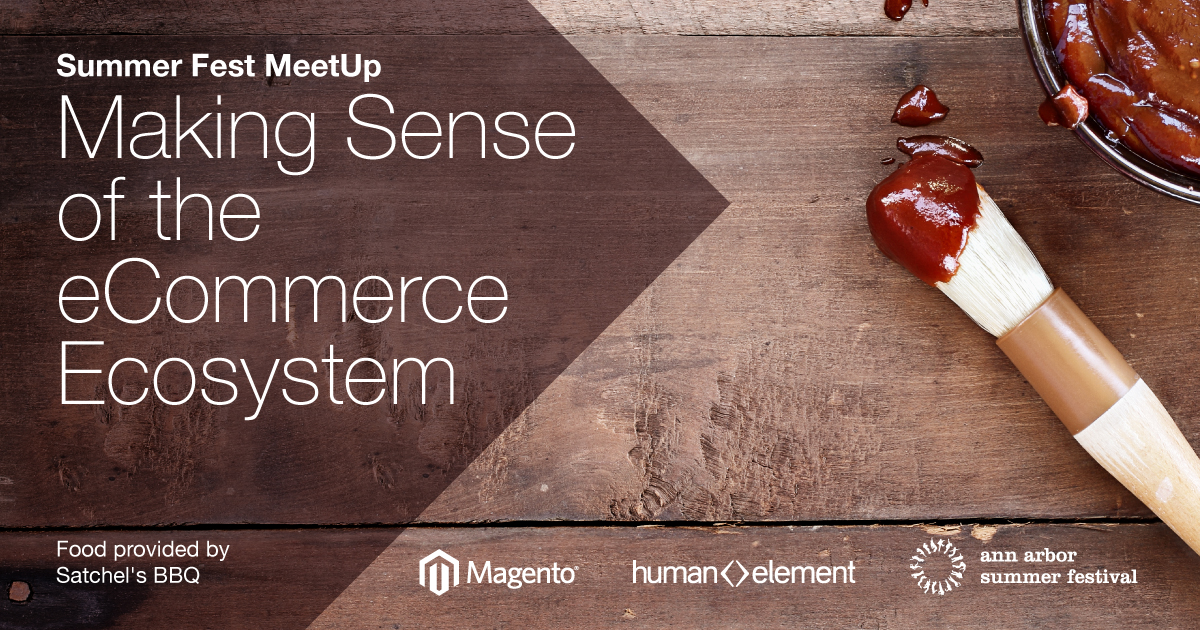 Human Element will sponsor the Summer Fest eCommerce meetup and barbecue June 27 in the festival's newest venue, the Annex Tent. Hosted by eCommerce Ann Arbor, the meet-up will feature special speaker Ryan Muir, Director of Development at Human Element.
The evening's informative discussion will be focused on tips and tricks of navigating the eCommerce ecosystem as speakers Muir and Hackett provide their insights into the basics of strategy and technology infrastructure. The eCommerce ecosystem is a complex web of intertwined technologies, strategies, and business intelligence. When you build a solid foundation with a strong eCommerce platform, mix in analytics and data, and prepare a multi-faceted omni-channel marketing strategy, your brand will thrive.
Catering for the evening will be provided by Satchel's BBQ of Ann Arbor and will include their slow-smoked pulled pork, chicken, mac n cheese, cole slaw, baked beans, and corn bread. In addition to the fabulous food offerings, a cash bar will be available exclusively to guests of the event featuring specialty brews from New Belgium Brewing Company, Alaskan Brewing Company, and Michigan's own Latitude 42 Brewing Company, as well as a selection of wines, Heineken nonalcoholic beer, and soda.
Take a step out of the tent to enjoy the festivities of Summer Fest. Australia's Strange Fruit will be performing their world premiere acrobatic spectacle, Tall Tales on the High Sea. Wander over to Rackham stage for the live music of Whit and Al Hill and Friends. Or stick around after the sunset for a showing of Men In Black also at Rackham Stage.