Artificial intelligence (AI) promises to help improve the digital experience for B2B companies at each stage of the customer journey.
For businesses that sell to businesses, the customer experience is everything. Unlike B2C companies with tens of thousands to millions of customers, B2Bs typically sell to much smaller numbers—customers numbering in the tens, hundreds, or, if they're very large, a few thousands. From a revenue standpoint, every account and every relationship is precious.
This is why B2B companies have historically struggled to automate their customer experience and deliver it online. Marketing automation and eCommerce technologies originated in the consumer space and initially delivered "one-size-fits-all" experiences, such as email blasts and websites offering a single product catalog.
Even as automation became smarter—behavior-triggered emails and eCommerce with customer-specific catalogs, for example—B2B companies were still slower than B2C companies to invest in their digital experience. But that's changing fast. According to the Gartner Future of Sales report¹, 80 percent of B2B sales interactions between suppliers and buyers will occur in digital channels. And the rise of predictive AI is a major contributing factor.
Predictive AI uses artificial intelligence data to make educated guesses about the future—and machine learning to make those guesses more accurate over time. It promises to let B2B organizations deliver an automated and highly personalized digital experience that complements one-to-one sales relationships and includes everything from text-based conversation and predictive content to intelligent commerce.
This article from Adobe will look at how B2B companies can use predictive AI to create an engaging digital experience that complements direct sales channels and positions them for future success.
************************
Always-on customer service
Today's B2B buyers have embraced working at home. They spend more time online and work flexible schedules. Sometimes, they catch up on work late into the night.
For B2B businesses that depend on direct sales, this can present a challenge. Buyers working at home may be reluctant to call a sales or service rep outside of business hours. But this can leave customers waiting for answers. Some companies are finding it's a better approach to combine always-on digital channels with AI. Some research suggests 58 percent of the companies using conversational AI are actually B2B firms².
For example, AI can have meaningful text-based conversations with a B2B buyer via chat, SMS, or even email that encompass individual context, such as that person's role in the buyers group and previous interactions with sales, as well as general information on the company's purchase history, current stage in the buyer's journey, location, and more. Rather than regurgitating canned FAQ responses, AI can craft human-sounding text that speaks to each individual customer.
Predictive AI can also anticipate customer questions. For example, if a potential prospect has reviewed product specs online about a company's extra-large-rain-gutter-making machine, conversational AI might deduce there's a question about that product and respond accordingly. This kind of cognitive leap can help accelerate conversations, saving buyers time. And transcripts of digital chats can be sent to sales.
Personalized customer journeys
Today's business buyers feel like purchase cycles are longer and more complicated than ever. According to Forrester's 2021 B2B Buying Study, 63 percent of purchases have more than four people involved—and they can include different buyer roles from multiple departments³. The study also found that the number of buying interactions—instances of a buyer getting more information about a product—jumped from 17 to 27 during the pandemic³.
AI-powered personalized experiences can help business buyers navigate these complex journeys— and complete their purchases faster. Some examples include personalized product recommendations, predictive content, and intelligent search.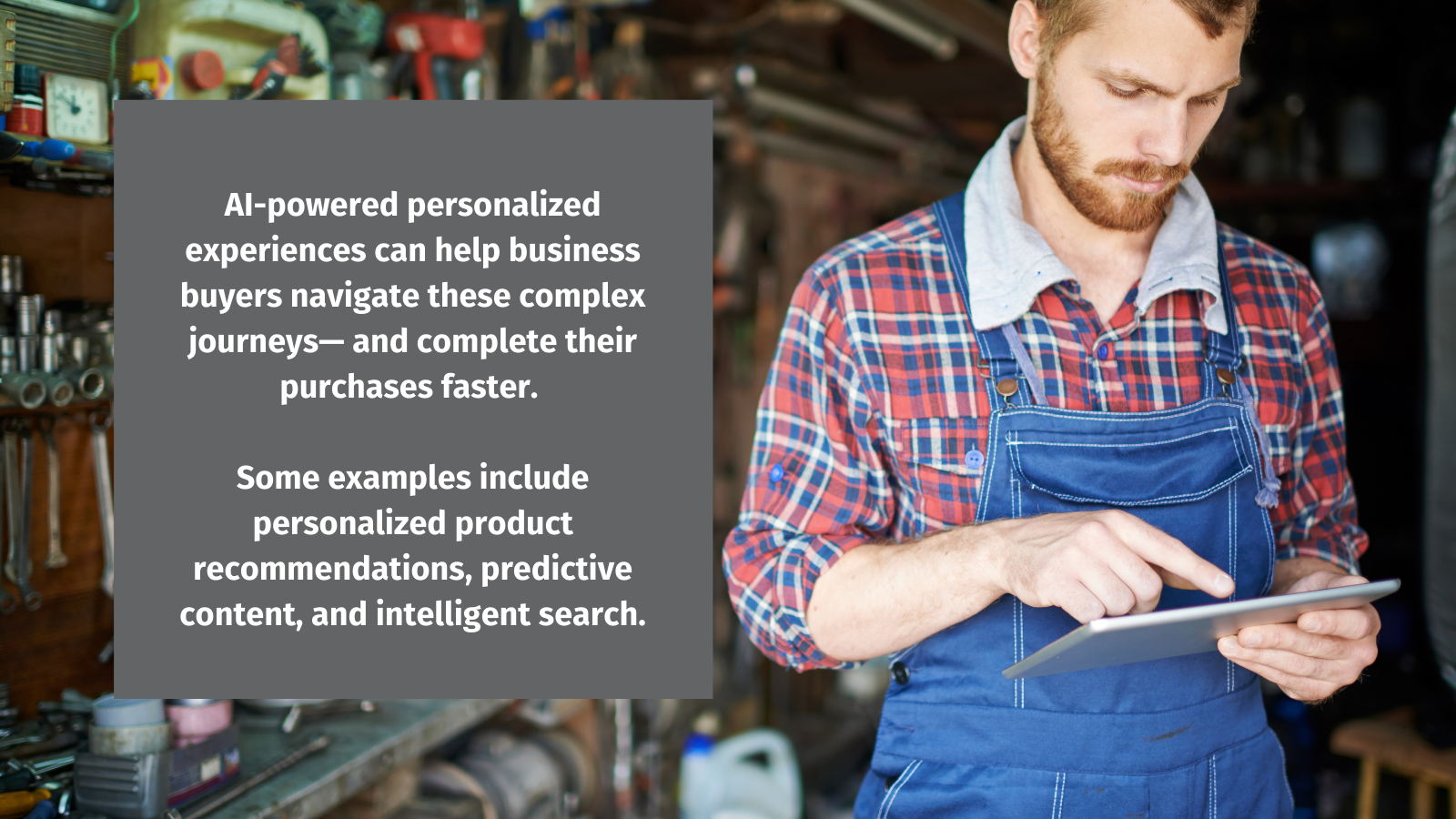 HIGHLY RELEVANT PERSONALIZED RECOMMENDATIONS
The success of companies like Amazon and Netflix is a testament to how effective personalized product recommendations can be. Both of these organizations built their own proprietary AI models to predict what customers were likely to buy or watch next. And both companies reaped major rewards—in the form of very fast growth—from their AI investments.
AI-powered product recommendations can also be highly relevant to business buyers. Of those responding to a Hanover Group survey, 70 percent said personalized recommendations helped them obtain more value from their vendors, and 53 percent said they'd willing to pay as much as 5 percent more to get them4.
Personalized recommendations are especially valuable when business buyers shop online. For example, let's say a mid-sized business's facilities manager goes onto their supplier's website and searches for large conference tables. An AI-powered recommendations engine could use a wealth of information—including the account's purchase history, the manager's search history, and more— to recommend complementary chairs as well as conference room furnishing packages from their company's custom catalog.
AI can also provide accurate product recommendations to new website visitors in real time by combining browser data with historical data from other users with similar characteristics as well as overall purchase trends. If the facilities manager referenced above wasn't a customer but rather a potential buyer comparing vendors, they would still get useful, AI-powered recommendations from the supplier's general catalog.
VISUAL RECOMMENDATIONS
Another way AI can help connect B2B buyers to the products is to analyze an image provided by the customer and make some predictions about which product or series of products it maps to. For example, let's say that a field technician at a cellular site has a broken radio component. They could take a picture of it, upload it to their supplier's website, and see images of potential replacements. After selecting the right image, the technician could automatically send it to the manager who's authorized to request the purchase.
MEANINGFUL CONTENT RECOMMENDATIONS
In addition to personalized product recommendations, business buyers also want content that speaks to their individual situations and is highly relevant to their place in the customer journey. This is especially critical because almost 50 percent of B2B buyers will make a decision—based largely on content they gather online—before reaching out5.
Without predictive AI, however, delivering personalized content is virtually impossible. It requires collecting data on the types of content customers consume, analyzing their purchase history and online buying habits, and then guessing which content assets—perhaps from a library of thousands— best meets their needs. This is especially difficult when content assets are dispersed across multiple content management systems (CMS).
AI makes this process remarkably easier. It automatically searches and tags all of the content in your CMS, surfacing relevant assets that you may not have even been aware of. It can also build highly accurate content recommendations for individuals based on their location, company, role, and behavioral data. Over time, it can learn which content each customer is more likely to engage with, and it can help you understand which groups (industries, job titles, etc.) are more interested in which types of content.
Imagine a buyer from a mid-sized hotel chain in Sweden visits the website of a global coffee producer and reads a blog post on consumer coffee preferences across Scandinavia. Based on data gathered from customers and other website visitors as well as the browser, AI can predict that this buyer may want to read a city-by-city analysis of coffee-buying trends in Sweden. Later, once this prospect has provided their email address, the coffee producer's marketing team could add more AI-powered content recommendations such as additional blog posts, coffee reviews, and more.
SMARTER SEARCH
Searching for products on company websites can be a frustrating process. This is true even if you're a business buyer and searching through a product catalog that has been customized for your firm. The problem is how search is managed on the back end. In many eCommerce databases, products are tagged with unique, often non-intuitive search terms that are difficult for customers to guess right on the first—or fifth—try.
AI can analyze the language customers use to search for products and predict the synonyms they will use for your unique search terms. It considers your customers' overall search behavior and the informal language people use in everyday life. For example, let's say you sell a product tagged in your catalog as an "industrial debridement suspension." AI can help surface this product in customer search results for "cleaning solution," "liquid cleaner," "blue cleaner," and other terms.
INTELLIGENT TARGETING
Another big part of the digital experience for B2B buyers is targeting. Good targeting can help you predict which of your accounts are ready to purchase or engage, so you can avoid overwhelming the rest with irrelevant information. You can apply intelligent targeting to your website as well as to your email database.
By analyzing complete customer data, AI can help you serve up the right ads to website visitors based on more than just their location. Likewise, AI can help you figure out which people on your mailing list really want to be invited to your next webinar—and which ones are more likely to unsubscribe.
ADVANCED ACCOUNT TARGETING
AI can also help companies that practice account-based marketing (ABM) predict the prospects most likely to buy. This can be a complex process, because, as we stated earlier, buyers groups may include several people, each with different interests. AI can analyze how everyone in a buyers group is interacting with all of your digital channels, identify the behaviors that signal purchasing intent, and inform sales teams which accounts may be ready to make a decision.
With account-based targeting, you can create a more seamless connection between your digital experience and your direct-sales experience, which helps customers feel confident that your business really understands their needs.
Predicting tomorrow's customer needs
AI is not only great at helping you improve the digital experience today, it can also help you understand what your business customers will need tomorrow. Using AI to look at large volumes of customer data from many sources—purchase histories, text-based content on social media, and more—can uncover hidden customer needs. For example, AI might detect signals that your customers are having trouble finding qualified technicians to repair your product, which could lead you to add a "find a local repair tech" function to your website—or even create a digital marketplace for repair services.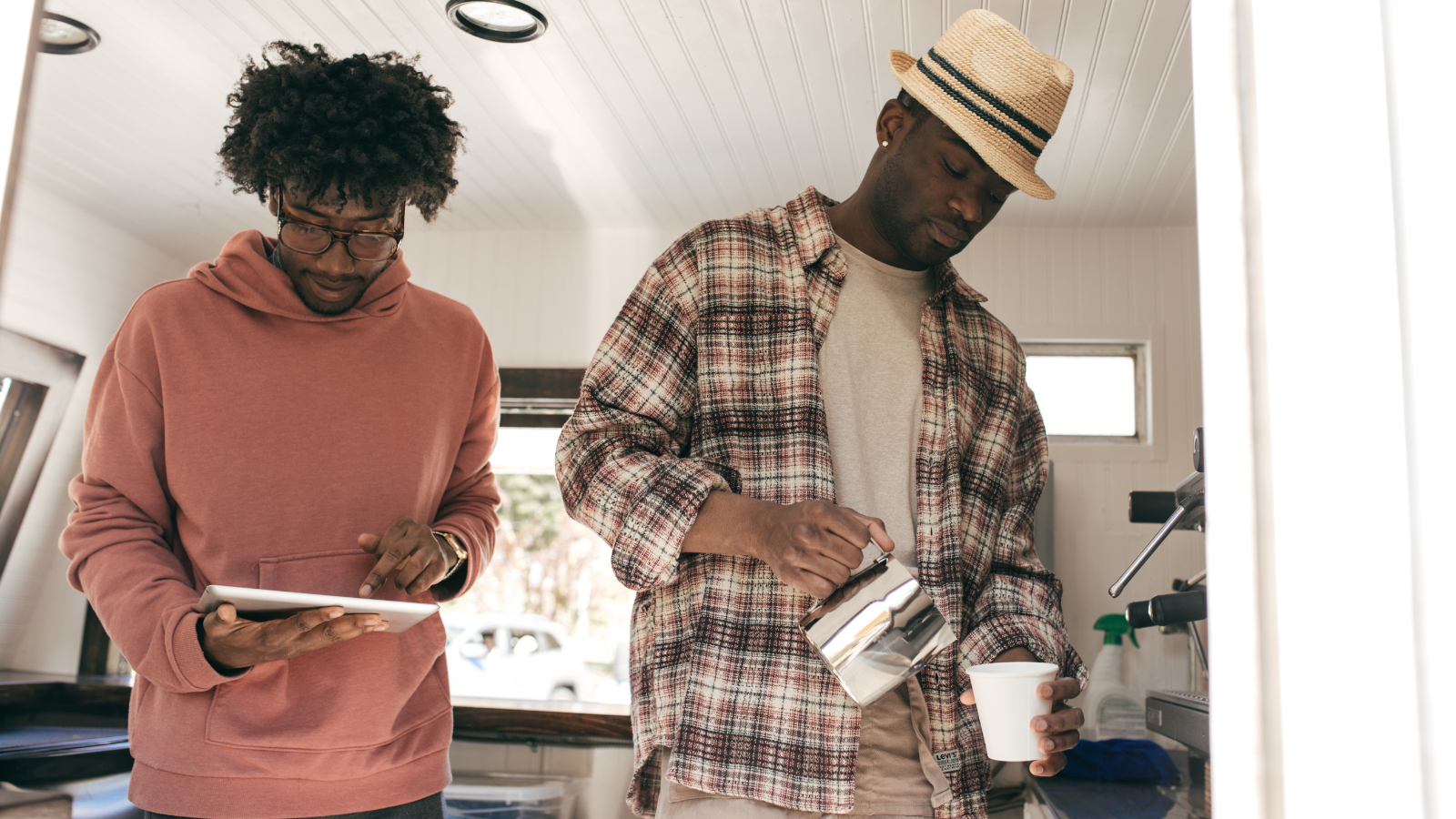 Take the next step.
B2B companies that embrace AI-powered digital experiences will be well prepared for success as marketing and commerce become even more digitized. If your organization doesn't already use AI to support the digital experience—or have a plan for adopting it—then it should be at the top of your to-do list. Adobe technology and Human Element can help you get started.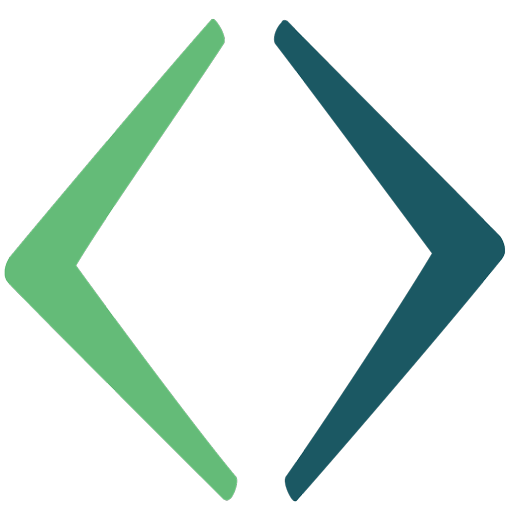 Already a Human Element client? Great!
Contact your project manager to discuss how these new features can improve your site's user experience!
If you're not already a client,

g

et in touch

to learn more about how we can improve your eCommerce site!
---
Sources
1 https://www.gartner.com/smarterwithgartner/future-of-sales-2025-why-b2b-sales-needs-a-digital-first-approach/
2 https://www.goboomtown.com/blog/chatbot-statistics-study
3 https://go.forrester.com/blogs/three-seismic-shifts-in-buying-behavior-from-forresters-2021-b2b-buying-survey/
4 "What B2B Buyers Want in 2019: Speed, Personalization and Intelligence," survey of 1,000 procurement and purchasing leaders, Hanover Group (sponsored by PROS).
5 "The Growing Buyer-Seller Gap: Results of the 2018 Buyer Preferences Study," Miller Heiman Group, 2018.