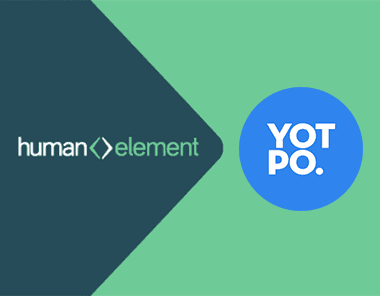 Human Element's newest official partner, Yotpo, is a user-generated content marketing organization that helps eCommerce retailers generate reviews for their company and individual products. Human Element has done Yotpo integrations for dozens of eCommerce stores, and we really love the simplicity of their platform, as well as the developer-friendly integration they've created. We sat down with our friends at Yotpo to get all the dirt on what they do, who they're working with, and what their content solution will provide to our clients. Here's what they told us:
What is Yotpo?
Yotpo is the leading customer content marketing platform for commerce brands. With Yotpo, businesses can collect every type of user-generated content and use it to build a stronger brand and a better customer experience.
An official partner of Google, Facebook, and Shopify, Yotpo has raised $101 million in funding and has over 300 employees globally.
Tell us a little bit about what makes Yotpo unique.
Yotpo is a complete user-generated content marketing solution. We allow brands to collect, curate, manage, and respond to user-generated content from a single platform.
Yotpo solves the pain of scaling content creation by allowing businesses to leverage their customer voice in their marketing efforts. We help brands generate as much content as possible and make sure that it's strategically and seamlessly placed across the buyer's entire journey. This gives brands the opportunity to market themselves with authentic customer content that rises above the noise of traditional advertising.
What clients are you most proud of?
We work with more than 200,000 businesses worldwide, including leading commerce brands, like Away Travel, MVMT Watches, UnTUCKit, and Esurance
What platforms does Yotpo work well with?
Yotpo integrates with the best eCommerce platforms and apps to maximize the power of user-generated content. We are fully integrated with platforms including Shopify, Shopfiy Plus, Magento, Salesforce Commerce Cloud, WooCommerce, BigCommerce, and Volusion, as well as with leading apps like Listrak, HubSpot, SearchSpring, Fomo, Nosto, Swell, Findify, Antavo, and more. Finally, Yotpo is integrated with strategic partners like Google, Facebook, Instagram, Twitter, and Pinterest as well.
What can we look forward to in 2018 with Yotpo?
We've recently raised $51 Million in our 4th round of funding and are very excited about what's ahead.
This funding round guarantees that we will continue to lead the way in product innovation. We'll continue using the latest AI and machine learning technologies, and we'll keep challenging ourselves to make our platform and service even better.
Interested in connecting with the Yotpo team? Follow our affiliate link!