As the snow falls and we finish the last of our holiday celebrations, we generally take some time to reflect on the year we will leave behind, and look forward to all that is in store for the next. We feel fortunate, appreciative and humble as we review all the opportunities we have been afforded as a company in 2017, and we're excited about everything that the new year will bring –  not only for our internal team, but for our clients as well. Here are a few things we're especially proud of, and what you can expect to see more of in the new year.
In 2017, Human Element experienced a 55 percent growth rate. There are a few factors that played into this. First, Human Element uses the Traction business methodology, which has helped us to organize and grow our business over time and actively respond to the changing needs of our customers and internal team.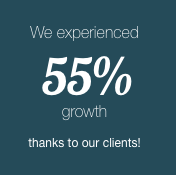 Secondly, our staff is made up of smart, unique individuals with a variety of skillsets that meet the needs of our clients. We're proud of our team, and we know that they have worked hard to make this year a big one.
Some of our growth can also be attributed to our clients and the types of relationships we build with them. We strive to build lasting partnerships, and by becoming a long-term extension of their teams, we are able to grow together over time. We regularly review our processes for inefficiencies and improve our methods everyday.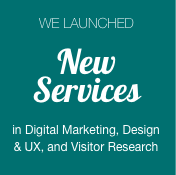 And so, when we recognized the need to more effectively support a number of new and emerging services both internally, and for our clients, it was intuitive for our team to adapt to meet the needs of the industry – to remain leaders, rather than falling short. We focused our efforts immediately on developing and improving our operations and processes in order to support our transition from a development shop to a more robust, full-service agency. Look for more on our new Agile process in the coming weeks – we're calling it the Catalyst process. This has been a big internal push for us over the last two quarters, and we've really worked to make it our own.
This year, we also expanded our base of services to include digital marketing, user experience and design, as well as visitor research and A/B testing. In addition to our strong skills in development and technology strategy, these additional services will afford both new and existing clients the opportunity to grow more with the Human Element team in 2018.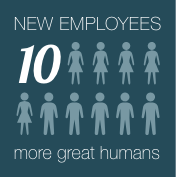 Although in the past, we've often contracted with local talent for these services or offered them as add-ons, this year, we made an earnest effort to incorporate these departments fully into our in-house team.
In addition, Human Element has begun to take on bigger clients in new verticals, with an eye to expanding our core offerings to more B2B-focused companies. We believe that as we grow, adhering to our core values will help build trust with our clients, hire the right people, and help us maintain our culture.
We also stepped out of our comfort zone a bit this year by participating in both community and technology events in a way that we haven't in the past. We sponsored and exhibited at IRCE and Digital Summit Detroit, sponsored the Ann Arbor Summer Festival, hosted a number of technology meetups in our offices, sent speakers to Magento Imagine and Meet Magento New York, and hosted our first client conference – the NEXT Conference in Detroit.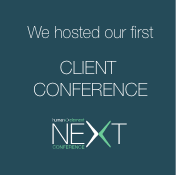 In 2018, we hope to expand this effort by exhibiting at Magento Imagine and building out our calendar of events even further.
With these new opportunities at hand, we look forward to what will assuredly be a historic year for Human Element and its clients. The eCommerce world is one of constant change, and the team at Human Element is committed to providing proven technology, beautiful design, and cutting-edge strategies to push our clients to the forefront of the industry. We look forward to collaborating with our clients and partners to achieve new growth in the coming year.
If you are interested in hearing more about services available through Human Element, contact us! We are happy to provide you information on any opportunities we see fit for your organization. And cheers to a fantastic 2018!