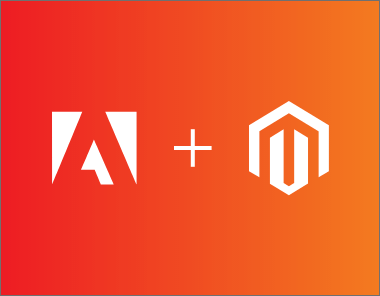 Oh hey! You must be here because you're interested in the breaking news that Adobe will acquire Magento Commerce. Crazy, right?
I guess there really isn't too much shock value associated with this headline. We've already seen Adobe move in this direction with Adobe Experience Cloud utilizing headless Magento for commerce – and, of course, the long-standing partnership between Magento and Adobe probably played a key role. But it's safe to assume that with this move, Adobe is going to continue the push up market. So while the fan theories form and the negative ninnies of Magento development prepare their last rites, I prefer to look at things from a more positive, reasonable perspective.
Adobe knows what they're doing. The $1.68 billion acquisition of Magento Commerce will allow them to break further into the world of digital commerce where Magento maintains a strong foothold with more than $155 billion in gross merchandise volume. By combining the two companies' functions, they hope to create a seamless end-to-end system for building e-commerce websites, designing digital ads, enhancing customer brand experiences, and completing transactions. Magento noted in a recent statement:
Adobe is the digital experience leader in content creation, marketing, advertising, and analytics, and the combination of Adobe and Magento will enable real-time experiences across the entire customer journey for both B2C and B2B businesses.
So really, this is pretty frickin' cool. The design and marketing capabilities of Adobe softwares matched with the eCom features of Magento? I'll take two. Adobe understands the small and midsize business (SMB) market in a way that Magento simply does not.  I also think Adobe has a better understanding of licensing at the SMB level.
We can expect for things to be business as usual until the ink dries (the deal is expected to be finalized in the third fiscal quarter), but we will likely see some interesting moves in the marketplace, as well. After all, just a few hours after the announcement was made, Shopify stocks fell more than five percent. So while "what's next" is almost entirely speculative, there are a few things we can anticipate – prepare for a pricing shake-up in the next 12-18 months. I predict seeing a more affordable "cloud" version that meets the need of the "professional" level of subscribers ($2 million and below).
But one of the biggest takeaways you should keep in your pocket from this exchange is that being a Magento-certified professional is going to propel your career more now than ever before. We should see increased sales and interest in the platform and one would assume that we will see a surge in hiring for Magento-related positions. From a bigger picture perspective, we are looking forward to growth in market share and a move up the Magic Quadrant as M2 matures even further.
But this is not to say that we shouldn't look to other growing platforms. Up and comers like VTEX show significant promise that can't be overlooked. At Human Element, we believe it's smart to balance our risk and have alternative superpowers in the bank. In review of the most recent Gartner report, we can see that out of all the leaders announced, the M2 code base is the most innovative, progressive option. They have the largest amount of developers in the world, in a language and platform that is being improved upon at all levels on a daily basis. Sometimes its tough to see these factors when we are in the weeds, but I firmly believe that placing your bets on Magento in the coming years will put odds in your favor.