International Project Management Day is celebrated annually on the first Thursday of November and is all about appreciating the important role project managers play in our organizations.
As a Technical Project Manager, I am often asked by friends and family what I do to support my clients and the rest of the humans that I work alongside at Human Element.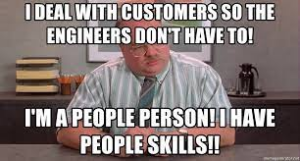 One of my favorite movies is Office Space. It offers a glimpse into life at a software development company in the late 1990's. There is a scene in the movie that offers one take on what a project manager does. While being interviewed by "The Bobs," — consultants brought in to identify who stays and who goes — Tom Symkowski eloquently explained his role in the company in this manner:
"I deal with the customers so that the engineers don't have to. I have people skills. I am good at dealing with people."
Working with clients
While this is a comedic look at the role of a project manager, that is actually one very real task that we need to excel at. There is an art to listening to what a client is trying to accomplish, understanding any limitations of the platforms that drive their eCommerce website and connected systems, ensuring that we completely understand the goals of the request, and then translating all of that into instructions for our development team so that we can deliver the new functionality exactly as the client expects.
How we work internally
We have to work with the tech leads on getting estimates and risk assessments, ensure that the instructions are technically sound and make sense for the developer, get approval from the client to begin the work, then resource and schedule the work to the developer. Along the way, we address any issues that come up while in development or get necessary clarifications from the client. Finally, we verify the work satisfies the client's requirements before passing along to the QA team and ultimately answering to the client that it is ready for release to their website.
Of course, there is much more to being a project manager than documenting requests from clients. We have to work with our consultative teams, including strategy, design, QA, SEO and digital marketing, and know when and who to bring in at just the right moment. We have to understand our clients and their industries. We need to understand the entire project and ensure that we can visualize how everything fits together to exceed the client's expectations and ensure that it fits in with their goals and business needs. We oversee the budget and contracts, making sure that we stay within the requirements that the client sets forth. Sometimes, we even roll up our sleeves and perform some of the work when we have the skillset to do so.
Ultimately, a project manager is responsible for overseeing tasks and projects appropriately, within scope, budget and timeline. We need to have excellent communication skills and juggle our clients' needs.
We have people skills.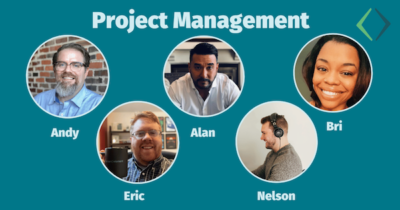 Our team
Please meet the Project Managers of Human Element: Andy Dahl, Alan Errichiello, Bri Hamber, and Nelson Hansen. As a prerequisite, each one of them is a people person! They each bring their own experience every day to their clients and the rest of the team at Human Element.
Not just on International Project Manager day, but every day, I am thankful for our team of project managers coming in and doing their thing to take care of our clients and supporting our developers and consultative teams.
If you'd like to learn more about how our team can manage your digital project, please feel free to reach out to us today.