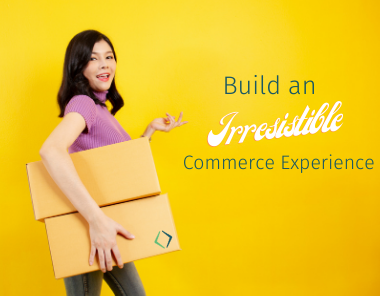 Good e-commerce experiences should be fun. They should be secure. And they should be helpful at an individual level. They should make your customers want to come back over and over again.
You want an experience that's irresistible to your customers because there's efficiency and savings for them—and for you, too. Econsultancy's 2019 research shows that a 5% increase in retention rates translates into a 25-95% increase in profits.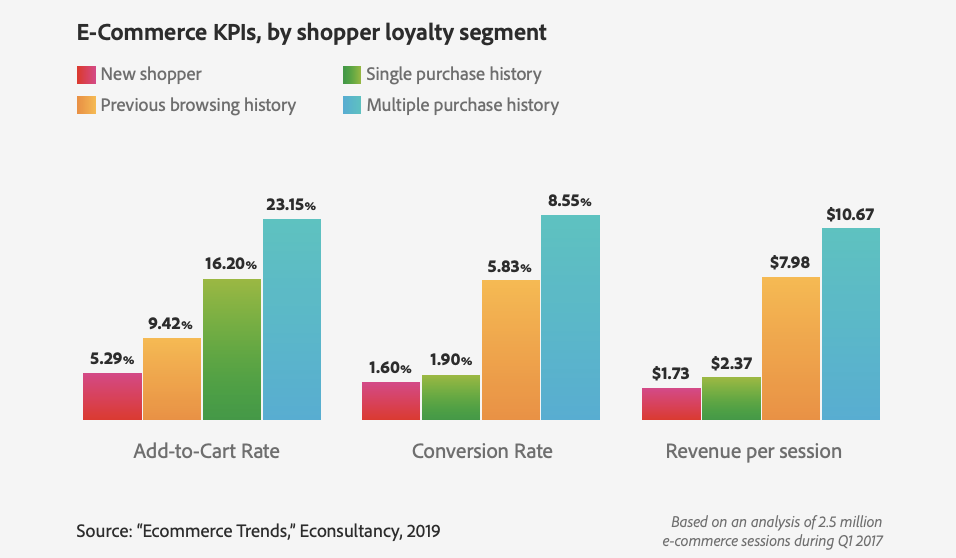 To achieve this irresistible customer experience, you'll need a flexible eCommerce platform that offers just the right features for each stage of the customer lifecycle. You'll need to create content and shopping experiences for different customer types, and you'll need to keep analyzing customer behavior and evolving your customer experience until you get it right.
Commerce, of course, is about the buying and selling of things. Regardless of whether you're a B2B or B2C brand, customers will come to you because you have something they want or need. But you're not their only option. So, your goal is to be the one they decide to visit, make a purchase from, and return to time and time again. As noted above, the customers who have the most history and familiarity with you are the ones most likely to make a purchase and create more revenue.
Here, Adobe identifies the essential eCommerce features you need to create an irresistible experience at all stages of the customer journey.
Built for speed
Today, customers just expect digital experiences to work, and to work quickly. If your experience is broken or sluggish, they will immediately go off to one that works better for them. In fact, according to a Think with Google article, more than half—53 percent—of visitors abandon a mobile website if it takes longer than three seconds to load, and Hubspot says that a one-second delay in load times results in 7 percent fewer conversions. Performance also has an impact on your SEO ranking. Poor-loading sites that don't utilize new frameworks are penalized.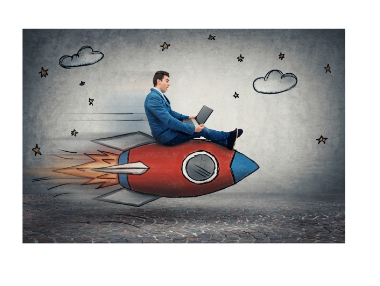 SEO rankings are key for brands seeking to avoid heavy SEM costs to stay on page one of search results.
What to look for: A cloud-based e-commerce platform combined with options for expert guided services will most often maximize speed and flexibility. You need the ability to proactively scale for the events you can see coming, as well as react quickly to the ones that surprise you. Also, you need a platform that enables the quick and easy launch of a storefront when an opportunity strikes—you want to get into the market as quickly as possible.

What to watch out for: Older e-commerce platforms may not perform as well in the cloud. Using e-commerce platforms that don't offer cloud services means you'll have to manage multiple cloud vendors yourself.
Extreme flexibility
Enterprises often have brand- or region-specific requirements that may arise out of organizational structure, compliance, or localization needs. Individual stores or brands need to be rolled out easily while implementing their unique needs. All of this needs to be managed while maintaining the stability and upgrade-readiness of the platform. A flexible platform helps organizations reuse common commerce processes and capabilities across stores, while allowing rapid customization for store-specific requirements.
What to look for: Seek out a platform that can be configured in many different ways and lets you access and change the code. Look for a rich set of extensions to fill in gaps the core product might have. Look for a skilled community of developers to utilize for additional strength in areas you need to spare resources. Look for platforms that embrace open-tag management solutions, core components, code base, and more.

What to watch out for: Think twice about platforms that are completely locked down and do not give you access to the code. For instance, brands want to avoid a situation in which their platform provider might force them to make an upgrade. A forced upgrade may cause site outages or other unforseen issues. Similarly, watch out for platforms that require you to use rigid, unchangeable templates in your experience design.
A flexible platform lets you design a unique and delightful customer journey.
Delivering immersive experiences
Content is a big part of an irresistible customer experience. Salify states that 87 percent of consumers rate product content very highly when deciding to buy. And, CMO.com states that 67 percent of consumers say it's important for brands to personalize content based on their current context. In other words, content is critical to the shoppable moments you want to create, and so is presenting it in a personal way so that your customers feel like you know them and know what they want. A platform should have a proven legacy in creating jaw-dropping experiences with robust flexibility.
What to look for: Consider a platform that has the ability to manage content, as well as create compelling experiences. It should be able to access content from external content and asset management systems, and have the flexibility to integrate with third-party experience systems to account for different customer touchpoints. Finally, for the highest levels of personalization, and the understanding of context and data that they require, find a platform with modern AI and machine-learning capabilities.

What to watch out for: Beware of platforms that have limited experience in content creation, editing, sharing, collaborating, or execution. Be careful of platforms that are just now getting into experience management and have no legacy in experience or design. Lastly, use caution when considering platforms that don't fully support external content systems, forcing you to use their own because they haven't invested in integrations.
Development for experiences that are mobile-first (and always)
According to ComScore, the average U.S. adult (18+) spends two hours, fifty-one minutes on their smartphone every day. And Pew Research notes that more than half of them have bought something online with their smartphone. An irresistible
customer experience must be mobile—first and always.
What to look for: For the best possible mobile experience, you'll need a platform that supports progressive web apps (PWAs). PWAs provide the flexibility of responsive web design with a rich, applike interface. And they use bandwidth efficiently, so they consume less cellular data and perform better where network connections are spotty.

What to watch out for: Say "no" to platforms that do not support PWAs, or force your designers and developers into a desktop-first framework. Also, beware of platforms that simply provide an API, and leave the burden of development on the enterprise. Finally, watch out for platforms that take control away from non-technical users, requiring developers for every minor change to the PWA.
According to Econsultancy's 2019 Ecommerce Trends report, 60% of Google searches in the US are carried out via mobile devices. And 40% of online sales in the UK by March 2019 were made on smart phones, overtaking desktops and tablets. By 2021, it is estimated that global mobile e-commerce could account for around $3.5 trillion and make up 73% of e-commerce sales.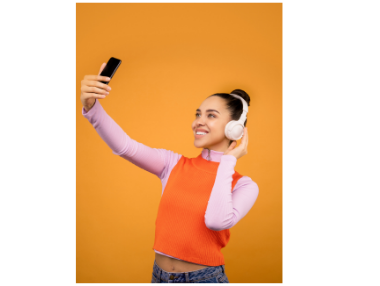 Multichannel commerce
An irresistible customer experience is an ultra-convenient one. Customers want what is best for them, like having the option to buy and have the item shipped to their house, or to "buy online, pickup in store" (BOPIS). Ultimately, they want options. Additionally, they want a personalized experience on a site, at a store or branch, or in an interaction with an IoT situation where it's apparent that the brand knows who they are. An e-commerce platform that supports multiple channels and partnership models can help you give customers what they want—when, where, and how they want it.
What to look for: Choose a platform that can deliver fast and easy storefronts but also fit more advanced omnichannel needs. Look for a platform that has the flexibility to meet customer needs across the customer journey, from awareness to post purchase. Be sure to look at the channels, marketplaces, portals, and stores in which you need to have shoppable moments to win market share.

What to watch out for: A platform that can only deliver on the simple touchpoints, like web or mobile, and lacks the broader aspects of multichannel. Use caution when platforms only offer loose multichannel integrations and don't have strong native abilities to support multichannel needs.
Analytics
Analytics helps bring meaning to commerce behavior across omnichannel touchpoints. Having just CRM or commerce data leaves you with valuable data that lacks the customer context needed to understand it or optimize accordingly. Commerce systems should have a heavy presence in the customer data, particularly behavioral data that measures and helps drive optimization and personalization. And your eCommerce platform partner should be master of analytics and digital marketing practices.
What to look for: Look for a system that has versatile AI and machine-learning abilities to make sense of large amounts of data, and gives suggestions for action or optimization.

What to watch out for: Data is your currency. Avoid platforms where you do not have sole ownership of your data. These days, the customer journey plays out over multiple channels, so watch out for platforms that only focus on web-based data, and do not meet the needs for a multichannel data source to run successfully on all touchpoints.
Discover how Adobe Commerce (Magento) can help you build an irresistible customer experience.
Adobe is a leading provider of commerce innovation to merchants and brands across all industries through Adobe Commerce (Magento), and was recently named a leader by Forrester in 2020 in both of their Wave™ reports featuring B2C and B2B Commerce Suites. In addition to its flagship digital commerce platform, Adobe Commerce (Magento) boasts a strong portfolio of cloud-based omnichannel solutions that empower merchants to successfully integrate digital and physical shopping experiences. Adobe is the #1 provider to the Internet retailer Top 1000, the B2B 300, and the Top 500 Guides for Europe and Latin America. Adobe Commerce (Magento) is supported by a vast global network of solution and technology partners, a highly active global developer community, and the largest e-commerce marketplace for extensions, all available for download on the Magento Marketplace.
In choosing Human Element to make your Adobe Commerce (Magento) dreams a reality, you will have a partner that knows Adobe Commerce (Magento) inside and out, with over 40 certifications on staff and based in the U.S. Get in touch today to give your customers that irresistible commerce experience that only Adobe Commerce (Magento) can deliver!