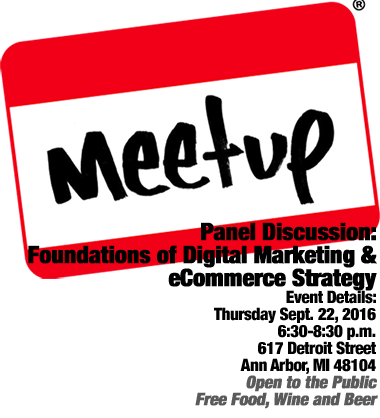 The eCommerce Ann Arbor Meetup welcomes three experienced eCommerce strategists to join us on Thursday Sept. 22 from 6:30 – 8:30 p.m. for a panel discussion around Foundations of Digital Marketing and eCommerce Strategy. Our panelists have decades of combined knowledge in eCommerce, digital marketing and strategy, and improving conversion for their online stores. Human Element will host the event and moderate the discussion. We welcome questions from our Meetup participants during the event, where e plan to cover a number of topics, including:
Digital Marketing – How to achieve growth
Omni-Channel Strategies
The Brand Experience
Email Marketing Tools and Tricks
Using Social Media to Drive Traffic
B2B Sales Opportunities
Overcoming Challenges
The Future of eCommerce
Human Element will provide food, wine and beer. The event is free and open to the public.
ABOUT OUR PANELISTS
Sean Phaler, Digital Marketing Manager – Pentair
Sean has been involved in the web world for most of his life. He owned his own web design business, and worked for the NBA's Charlotte Bobcats (currently Charlotte Hornets) implementing digital marketing strategies. Sean now acts as Digital Marketing Manager for Pentair, a Fortune 500 company with large b2b manufacturing focus. In his current position he has seen 25% YOY growth of eCommerce sales, launched a successful e-mail marketing program, grew social media from a combined 5k total following to 200K+ total following, and manages a monthly successful PPC campaign.
Corey Bailey, eCommerce Manager – Homedics
Corey has worked in a number of digital marketing and ecommerce leadership roles in her career. With a background in user experience, client retention, marketing data and email strategy, she understands best practices that ensure increased conversion and sales growth. She currently leads the ecommerce team at Homedics, a global brand that includes Jam Audio, The House of Marley, HMDX, Sol Republic and Obusforme.
Brian Berryman, Director of Marketing – Vintage King
Brian Berryman is the Director of Marketing for Vintage King, a Michigan-based retailer of music and recording equipment. From email marketing, content development, brand strategy, retail experience, and more, he and his team are responsible for creating a diverse mix of strategies that help support a rapidly-growing retailer.
PARKING
We have parking at our new office at 617 Detroit Street, Ann Arbor Mi 48104. If there are no spots left, there is street parking nearby.