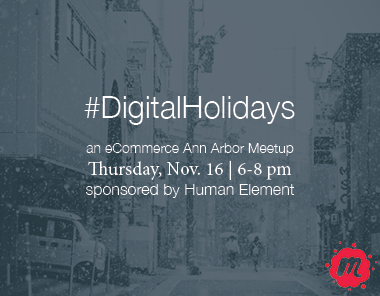 A mere 48 hours past the celebration of werewolves and witches, the eCommerce world is diving into the holiday marketing season. Because while the kids' Halloween costumes may not have made it back into the attic yet, Santa is already taking over prime time commercial space, and Black Friday is only a few weeks away.
eCommerce Ann Arbor has invited Leslie McGraw to its November Holiday Meetup, hosted and exclusively sponsored by Human Element, to give marketing strategists a few last-minute tips on how to get your holiday marketing campaign off on the right foot. Here are the details:
A Holiday Marketing Discussion
Thanksgiving. Black Friday. Small Business Saturday. Cyber Monday. Giving Tuesday. Hanukkah. Christmas. NYE. New Year. The holidays are coming fast and hard. In this session we will discuss what each holiday conversation looks like online, including tips, apps and tools to prepare engaging content, as well as ways to help your online community grow through the holidays and coming year.
About The Presenter
Leslie McGraw is a training and marketing professional with 15 years of experience in the areas of writing and blogging, online community management, training, engagement marketing, and social media marketing. She is a multimedia journalist and blogger and has done writing and content marketing for Skyword and local organizations, helping dozens of entrepreneurs find their voice online. Additionally, Ms. McGraw has taught computer literacy for Washtenaw Community College and led technology and social media workshops for the Ann Arbor City Club, University of Michigan Center for the Education of Women, and A More Excellent Way Global Ministries in Charleston, West Virginia and Columbus, Ohio. Her diverse background and people skills will help any business, young or "less young", connect with social media and technology in a way that fits their goals.
Parking and Reserving Your Seat
All eCommerce Ann Arbor Meetups are free and open to the public in an effort to provide the Ann Arbor community with learning and knowledge sharing opportunities otherwise unavailable. To reserve your seat, please RSVP to the Meetup event. Attached parking is available at the Human Element office at 617 Detroit Street, Ann Arbor MI 48104. If there are no spots left, there is street parking nearby.