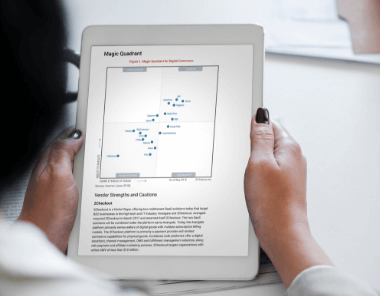 Gartner Inc. recently released the Magic Quadrant for Digital Commerce report evaluating 18 of the eCommerce industry's leading platforms, including Magento Commerce, on their abilities to not only assist application leaders supporting digital commerce, but also evaluating pursuits in transforming their technologies or approaches to deliver on the future needs of the end user. Sort of a mouthful, right? In short, this report has assessed current and future market potential for eCommerce platforms. Gartner then evaluated each vendor's strengths and cautions, and placed them on a distribution chart labeled the "Magic Quadrant," for a collective comparison.
So, what is this Magic Quadrant, and how has Gartner evaluated the potential of a company? Let's first take a look at how Gartner has defined the digital commerce market place.
What is The Magic Quadrant?
Gartner defines the digital commerce marketplace as the: "buying and selling of goods and services using digitalization technologies that result in a transaction of value to the customer. Selling may encompass the internet, mobile networks, social networks, the Internet of Things (IoT) and so on."
A pretty straight forward textbook definition; nothing too confusing or abstract – which is good because it gives a generally accepted testing base. Gartner also included a list of what the typical platforms include in its base functionality, integrations, and future technology. I'll spare you all the details and reference you to their post if you're interested in the digital technological specifics here. Based on this definition and the aforementioned variables, they've created a distribution chart showing the relationship of a platforms ability to execute, in relation to their completeness of vision. This distribution chart has been called the Magic Quadrant and looks like this:
What Sets Magento Apart?
Specifically in discussion of Magento, the Gartner report highlights, among other features, the platform's growth and service provider network, which boasts a robust integration and product development solution that can be attributed to Magento's fast paced growth. Also highlighted is Magento's marketplace connectivity. With built-in intelligent pricing and direct integration to Amazon,  eBay and Walmart, there is a lot of potential that is sure to reap positive response in the future.
In addition, the report labels Magento as a complete solution, which may be its greatest compliment. Magento's ability to provide additional services through its base functionality including solutions for OM, data analytics, B2B commerce, as well as many more, give it a great deal of flexibility and adaptability which helps boast them as a true one-stop shop.
However, with the good there is caution. Gartner has included Magento's open-source heritage as one of these, pointing out an identity shift that they've shown in their community commerce platform. Magento has built a strong reputation as an open source platform and with some of its newer modules not being offered as open source including, OM, B2B and BI, it should be noted that this change takes a small step in a different direction.
Another caution pointed out is Magento's lack of native personalization. Instead they rely on partnerships and integrations. This native function is shown as standard for most of Magento's competition. Lastly, Gartner emphasized Magento Commerce's lack of a robust PIM functionality. Meaning that the platform struggles with product information management.  Because of this, customers are finding that they must rely on third party partners to get the job done.
The Takeaways
We see that of all of the leaders announced, Magento's code has been found to be of the most innovative and progressive. They currently have the largest developer base in the world, and the platform is being constantly improved. Magento is in a great position, and being a strong leader in the industry shows us that the future for them is bright, and has great potential.
It should also be noted that this article did not include any predictions or information regarding Adobe's recent acquisition of Magento. But Human Element has bet on the Adobe acquisition being excellent for Magento and the Magento community as a whole in the coming years.
Considering a new platform for your eCommerce store? That's where Human Element steps in. Our team of experienced developers, digital marketing specialists, and UX experts can tell you what platform will best suit the unique needs of your customers. Feel free to get in touch and see how we can help your eCommerce business grow.