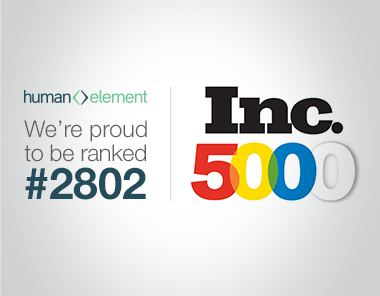 The qualifications required to apply to the Inc. 5000 list of fastest-growing companies in the United States are, to say the least, impressive. The exclusive list, now in its 36th year, has featured well-known organizations such as Clif Bar, Under Armour, Microsoft, and Patagonia. So when it was announced that Human Element had made it into spot 2802 for 2017, we were elated.
From an outside perspective, we are a pretty small group, with 38 full-time employees on the team. But when you consider the growth Human Element has experienced over the last three years, with only 11 people on staff in 2014, it's a relatively remarkable number to hit.
Not impressed yet? Let's look at the numbers. Not only has Human Element's team size grown, but the company has also experienced a revenue growth of 49.14 percent in 2016 and is projected to hit  58.53 percent in 2017 – so we're feeling incredibly proud about those stats.
But it's not without thousands of hours of hard work that Human Element has reached this level of success.
Founded in 2005 by Managing Partners Ben Lorenz and Jason Magee, Human Element was built on the dream to offer a software development and consulting agency that was run by a team that was approachable and valued the human connection – something that is surprisingly difficult to achieve in the eCommerce industry. Magee and Lorenz hit the ground running, and they haven't stopped for the last 12 years. The company was run entirely by the two-man team for two years until the demand was too great and the duo gladly added their first employee – as an intern to begin, in 2007.
Since then, not only has Human Element continued to provide the same level of experience and success to our clients, we now offer new services that enhance the strategic support for our clients' business. While we once considered ourselves to be a software development agency focused on custom Magento implementations, today we consider Human Element to be a full-service digital agency, offering clients not only Magento development but also digital marketing, SEO, creative and brand development, user experience, customer research and conversion rate optimization assistance. These services can be a la carte, or integrate with a new website implementation or ongoing Magento or BigCommerce maintenance and support.
As we celebrate this incredible accomplishment in 2017, the possibilities ahead are greater and more exciting than ever. Here at Human Element we are looking forward to continued growth within our team as well as with our clients, both new and old.