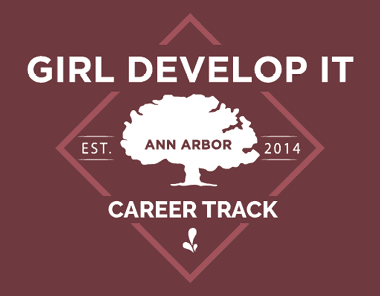 Long-standing Human Element partner Girl Develop It Ann Arbor will host a unique, informative event this week that discusses non-tech jobs in the growing field of technology. Boasting panelists from some of the most successful tech organizations in the Ann Arbor area and touching on much-needed topics for those interested in breaking into the industry, this event is sure to be well-attended, and a vital exercise in knowledge sharing for the community.
Are you curious about making the switch to the technology field, but aren't sure if becoming a full time developer is the right path for you? Register your seat at the GDI panel event at Human Element to hear from four women, each performing different roles in the tech world.
TECH PANELISTS:
For the past seven years, Dree Ziegler has worked as a business analyst, eCommerce strategist, and sales executive for Human Element. Her background is in digital marketing, SEO and technology strategy, and she has played a key role in the ongoing development of dozens of eCommerce stores. She is a Magento Certified Solution Specialist, and has spoken at Magento Imagine and Meet Magento New York. Dree now leads digital marketing services for Human Element, and runs a side hustle building websites and providing digital marketing for small businesses and "worthy" causes.
Rachael works embedded on a scrum team and is responsible for problem-framing, design research, and facilitating product conceptualization. When not coding, Rachael enjoys getting to talk with users and customers about their work in the hospitals and clinics of Michigan Medicine.
Ana Galofré Smith is a Digital Solutions Maven for E7 Solutions, a company specializing in Agile transformation, B2B eCommerce and custom development. She serves multiple roles, primarily as Technical Project Manager, Delivery Manager, Scrum Master and Business Analyst. She brings two decades of experience managing all sizes of domestic and international digital projects including designing and implementing bespoke Atlassian instances, training documentation and delivery, pre-sales, brand marketing, UX, e-commerce, and product development for iOS mobile apps and B2B applications. With degrees in Applied Anthropology, her favorite phase of any project is the deep-dive Discovery with new clients!
Amanda works for Michigan Publishing Services, a service-oriented arm of Michigan Publishing, the division of the University of Michigan Library focused on traditional and open access scholarly publishing. She came home to Michigan after completing her master's in publishing from Emerson College of Boston and working in digital production at The MIT Press. Her role is focused on project management (ushering a book or journal through the publishing process, from manuscript to finished product), digital product conversion, vendor communication, and accessibility implementation. HOSTED & SPONSORED BY: Human Element
Human Element (https://www.human-element.com/) is a US-based digital agency focused on eCommerce development with Magento. We like to keep our clients around for the long haul. Digital marketing. Branding websites. Ongoing support. We create websites that look good, write code that works, and help clients sell more stuff online.