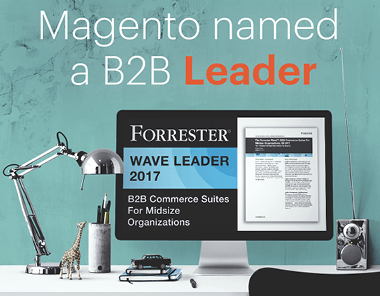 Magento Commerce, a Human Element platform partner, was named a leader in "The Forrester Wave™: B2B Commerce Suites For Midsize Organizations, Q3 2017" report. The reputable research firm cited the Magento platform as the "best fit for mid-sized B2B companies that want an open, feature-rich solution that can be extended easily and inexpensively."
"We're seeing a wave of global demand as more B2B companies adopt digital strategies driven by the desire to meet heightened client expectations and the need to differentiate through personalized, self-service experiences across multiple channels," said Lavelle.
"Magento offers businesses the agility to respond in a rapidly changing environment with fast, cost effective time-to-market solutions enabled by our flexible, cloud-based platform," Lavelle continued. "Backed by our world-class ecosystem of Solution and Technology partners, our newest product release makes many of the leading B2B capabilities available 'out of the box,' and builds on our long track-record of leadership in B2B Commerce."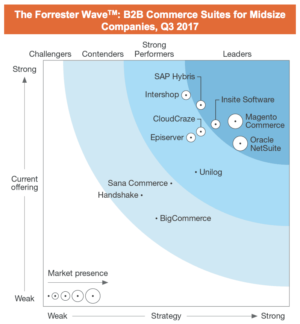 The Forrester evaluation researches, analyzes and scores the top 11 B2B commerce platform providers every quarter with focus on mid-sized merchants with $50 to $500 million in total revenue across a range of criteria. Magento received the highest score possible in 14 sub-categories evaluated in the report including: Company vision, Market presence, Customer service providers, Customizability, Scalability and Caching.
Human Element is a Magento Professional Solutions Partner, offering digital development services with the platform since 2009. Services offered are customizable and flexible, providing clients the ability to integrate seamlessly with leading business solutions, from ERP systems to CRM products including QuickBooks, Netsuite, QAD, eCometry, and Order Motion. Human Element has worked with dozens of clients to build a custom eCommerce solution that meets the unique goals of their business.