Now is the Time to Start Migrating to GA4
Written by:
Gary Goodman, Human Element eCommerce Strategist
John Tucker, Human Element Data Analyst and eCommerce Strategist
You've probably already heard that big changes are coming to Google Analytics. Earlier this year, the company announced that as of July 1, 2023, Universal Analytics (UA) will be going away. It will be replaced by Google Analytics 4 (GA4) and you'll have a 6-month window in which to download your UA data. (If you are a GA360 customer — Google's enterprise version of Google Analytics — please jump to this section below for an update specific to this platform.) 
Universal Analytics was designed for a world where the only engagement users had with web pages was to view a page or read content – an era when websites still had hit counters. Times and engagement with web pages have changed, and UA just can't keep up. So instead of adding on features and continuing to evolve old functions into the modern era with new fancy features, Google started over.
GA4 is a more powerful analytics tool than UA, and delivers information that helps businesses better understand the customer journey across websites and apps. It also uses privacy controls that include cookieless measurement, and behavioral and conversion modeling. In addition, GA4 contains predictive capabilities that offer guidance without using complex models. All this helps drive actions on a brand's website and apps. 
But this functionality comes at a price. GA4 integrations, as they relate to eCommerce, require customizations in order to work optimally. There are fewer out-of-the-box reports and the integrations can be labor intensive. 
We know you'll have questions, so we thought we'd outline a few things to help inform how you move forward.
Why is this happening?
GA4 has been designed from the ground up for "the internet of things," where everything is connected. Users now access the internet through multiple devices and multiple different programs beyond a web browser, such as apps. GA4 works across devices and enables enhanced tracking of user journeys. 
In addition, users are becoming more and more aware that their data is being tracked and they're advocating for increased rights to privacy. GA4 incorporates expanded machine learning for insights and provides better privacy protection, enabling companies to stay in compliance with evolving customer privacy laws such as GDPR and ADPPA.
How do I know which version of Google Analytics my site is using?
Generally speaking, if you created your website before October 14, 2020, you're likely using a UA property. If you created your site after that date, you're likely already using GA4. (To be sure, you can use this information to check.)
What is the difference between UA and GA4?
GA4 is distinctly different from UA. It is an entirely new platform.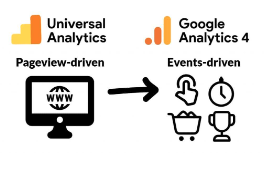 Data collected by UA is limited to what is sent when a page initially loads, regardless of what actions a user takes within the page. With GA4, data is continuously gathered with each interaction the user has with each webpage. This model unifies the user's journey across all of a brand's properties, from websites to mobile apps, with the goal to provide a better omni-channel experience for the customer. 
GA4 events utilize parameters with key|value pairs, allowing customers to add as many parameters to an event as needed. UA events always have the structure of Event: Category, Action, and Label, limiting options to these parameters only. 
Machine learning and artificial intelligence (AI) are the foundation of GA4, and data modeling is at its core. Analytics 4 was designed with the understanding that due to increasing limitations on data collection, it would never be able to capture 100% of the data of users on a site. 
Instead, Analytics 4 utilizes trends and patterns to construct predictions, workflows, audiences, personas, behaviors profiles, and more from a sample of a site's audience. The AI and machine learning adapt across each site to determine the sample size needed to gather enough information for which it can predict outcomes with statistical significance.
What does Google Analytics 4 mean for my Magento – Adobe Commerce site?
Magento added events to its code to allow easy setup of tracking in UA. However, as of this moment, these events are not created for GA4. As a result, we must add dataLayer variables directly to the code to include the necessary markup for eCommerce tracking.*
Due to differences between GA4 and UA, many custom dimensions, metrics, goals, and audiences need to be set up and reconfigured within GA4 to match your organization's objectives. 
Magento can be implemented with Progressive Web Apps (PWA) which do not have typical page view events. GA4 is better equipped to handle this implementation, as it is event-based and designed to provide analytics tracking natively for applications such as PWA. 
What happens to all my current Google Analytics data?
As mentioned above, you'll have a 6-month period to download your UA data from Google after July 1, 2023. After that, it will be deleted. Ouch. So it's best to make a plan now for downloading, storing, and interpreting it after you no longer have access to the UA interface. 
First and foremost, you need to make a plan to switch to GA4 sooner rather than later. July 1, 2023 may seem a long way off, but the reality is that implementing GA4 is complex and labor intensive. Human Element GA4 integrations start with a discovery process to determine the best solution for your particular website and business goals, then we do the technical implementation. This can take weeks or months to complete, so it's in your best interest to get the ball rolling as soon as possible.
How can Human Element help?
While there are many agencies that can help with a GA4 integration, Human Element is uniquely positioned to assist with customizing it for a Magento – Adobe Commerce site. We are Magento experts and we have the development resources to handle any custom code markup and tagging required for your specific business needs. 
We've completed implementations for several clients already and are currently working on several more. Our base package is a 40-hour engagement, but this can vary depending on what's needed for your project.
We know this effort may seem daunting, but you don't have to do it yourself. Our technical experts have years of Google Analytics experience and will help your team navigate your transition to GA4. Let us maximize the actionable intelligence you can gain from your analytics implementation.
Update for GA360 Users – October 31, 2022
As you can imagine, migrating 22 million websites using Universal Analytics to the new GA4- what is essentially an entirely new platform- is quite a feat. Even with the impending end-of-life deadline for Universal Analytics hanging over their heads, most site owners are hesitant to make the switch any time soon.  Because of this, Google has announced two updates:
1. The end of life deadline for customers using GA360 (Google's enterprise version of Google Analytics) has been granted a one-time "processing extension," ending on July 1, 2024. Meaning that these account owners will have 9 more months to make the transition to the new GA4.  Again- this extension is exclusively for users on the Google Analytics 360 platform. While the extension is a boon for many, the Google has stressed the importance of using this time wisely to make progress on the transition from Universal Analytics to GA4.
2. To further assist in the migration, Google will be making updates to the "Setup Assistant," a step by step tool that works with account owners to create a new GA4 Property. Per Russel Ketchum, director of project management at Google Analytics, "Up until this point, our Setup Assistant has provided various tools to help a customer migrate. What we're announcing is the Jumpstart Initiative starting early in 2023, where we're going to actually automate the steps of the Setup Assistant so that all customers will have a functioning GA4 property in place."
While Ketchum has stressed that the GA4 Property produced by this updated Assistant will "comply with all of their settings from Universal Analytics and, of course, give customers an opt-out option." It is not clear at time of writing whether this will include assistance with the preservation of any user-customized configurations such as Custom Metrics, Dimensions, Events, Transition of Goals, or eCommerce updates.
We at Human Element recognize the massive efforts being made by Google to ease the adoption of GA4 for site owners, but have seen enough GA accounts to know that a cookie-cutter approach could leave many marketers with blind spots and missing data that is critical to their business.  Contact us to set up a consultation with one of our strategists and see if our step-by-step migration process is right for your business.
For more information or to get started now, please reach out to us. 
*Note: Adobe's development roadmap adds GA4 events to Magento code in August 2022, but details are not finalized.