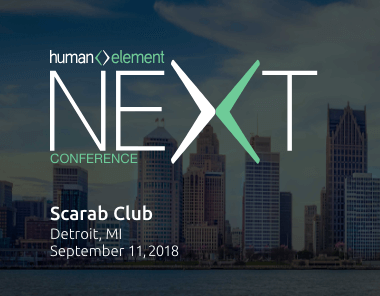 The Human Element NEXT Conference will return to Detroit this Fall featuring new speakers and discussions poised at answering the question: What's next in eCommerce? As the eCommerce ecosystem continues to evolve in new and often surprising ways, it's more important than ever for those working within the industry to find a breadth of knowledge and tactics to keep their brand relevant and progressive.
The NEXT Conference aims to arm attendees with the information needed to move forward and build a competitive strategy. Last year, more than 65 Human Element merchants, partners, and thought leaders attended including marketing and eCommerce directors, as well as other decision-making position holders from organizations leading the industry. In 2018, we expect the guest list to almost double, and are anticipating the finalization of the speaker schedule later this summer.
Like the members of the Human Element team, guests of NEXT are focused on Envisioning the Future of eCommerce on a number of platforms including Magento, BigCommerce, Drupal, WordPress, and more. Last year, speakers from prestigious companies like Magento, Wildman Business Group, Shinola, Carl's Golfland, Emarsys, Nexcess and Autopets took the stage, presenting on unique topics such as Artificial Intelligence Marketing, Navigating The Amazon Market, and Conversion Optimization.
The guest list will also receive a bit of an upgrade in 2018. In addition to the full list of clients and friends of the company, a selection of tickets will be made available to the public – opening the opportunity for marketing and digital professionals to make connections with, and learn from, some of the industry's foremost leaders. We encourage those interested in attending the 2018 Conference to purchase tickets well in advance, as seats will be limited.
As in the inaugural year, Human Element will host the conference at The Scarab Club; a unique, spacious and vibrant venue, perfectly suited to the event. Coffee and danishes will be served at 9:30 am, and the first speaker will begin promptly at 10 am. Lunch will be provided. In an effort to continue the discussion and networking opportunities, we will also hold a happy hour at 5 pm immediately following the final presentation.
One feature that will carry over from 2017 is a continued partnership with Digital Summit Detroit, a renowned digital marketing conference held annually at The Cobo Arena – just a stone's throw from The Scarab Club, and held the two days following NEXT. As part of our partnership with DSD, guests of NEXT will receive an exclusive discount to the Digital Summit Conference.
The window for sponsorship of NEXT is now open to interested parties. For information on sponsorship opportunities, please check out the Sponsorship page, or contact us for more details.
We look forward to seeing you at the 2018 NEXT Conference in Detroit!