The new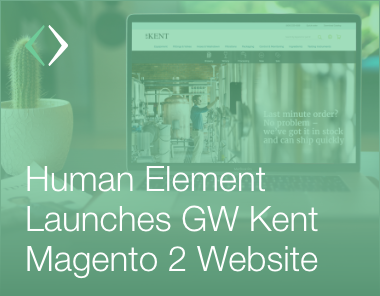 GW Kent website is here and taking orders! Like any successful eCommerce store, the new site was extensively designed, planned, and built with close attention to detail, as well as open communication and flexibility between the client and their long standing agency, Human Element.
GW Kent is a premier distributor of commercial brewery, winery and processing facility equipment. From olive oil presses to beer fermenters, Hefeweizen yeast to oak casks, GW Kent carries it. Known as nearly the exclusive retailer of equipment for these industries, it is rare to find a brewer or vintner in the community of commercial production that isn't a frequent flyer of GW Kent.
Here's Human Element's story of how we took GW Kent from a Magento 1 store to Magento 2 glory.
The Background
GW Kent partnered with Human Element as a development client since March of 2014 to support the existing site – primarily getting security patches and Magento versions up-to-date. GW Kent got its first big upgrade when Human Element launched it in March 2015 as one of the first Magento Enterprise 1.14 eCommerce stores – making the site responsive, with a total redesign.
The relationship has been continued over the years as a maintenance contract, doing small development improvements and building digital marketing campaigns. When the GW Kent team started to look to upgrading their site to the new M2, Human Element took it as an opportunity to improve the look, feel and user experience of the store and launch a sleek, clean interface in addition to the backend upgrades. Human Element's key goals were identified as:
Replatform from Magento 1.14 Enterprise to the most recent version of Magento 2.2.X Commerce
Making the business competitive advantages shine throughout the website
Integrate Magento and Sage 100 – an ERP system
Update the look and feel of the site to improve user experience and optimize the website
Focus on the mobile experience
Improve internal process to help the business run more smoothly
Restructure the navigation to match how users want to shop and add additional products and categories
Let's Build
The project began with stakeholder and customer interviews to ensure we built a website that met the needs of the business and the customer. In order for our team to build a site that improved the existing functionality, we had to know how users were interacting with it. Optimization Strategist and GW Kent Account Manager Sabra Bander lead the efforts in re-architecting the navigation, category filters, key attributes, and overall page structures based on visitor behavior and existing site data.
The industry specific navigation that existed on the M1 site was expanded to include a category navigation, allowing users to both browse and quickly find the exact product they came for in the industry-appropriate category, whether it be winery, brewery or food processing.
Another major upgrade made was in the addition of Klevu for the new site's search technology, which powerful features include self-learning capabilities, a full reporting suite, product / category / attribute boosting, multi-language support, and automated catalog enrichment.
The findings were then utilized to revamp the design of the site, giving a wholly new brand experience. The new GW Kent site is clean and intuitive while aesthetically in-line with the existing branding.
Lastly, integration of the Shipper HQ extension allows GW Kent to have full control over the shipping options and rates shown in the cart. With the sophisticated rate calculation, they can easily discount or surcharge live or custom rates and run promotional pricing. Set rules to show customized rates for specific geographic zones, shipping groups, or a range of dates and display special shipping options based on conditions you choose.
In Review
With any new site build, there are hurdles to overcome. In the case of GW Kent, the biggest of these obstacles was undoubtedly the need to create a connection between the ERP system and Magento. Our development team quickly found an extension that did just that, and resolved what could have been a significant shortcoming.
Looking back at the build, from planning and design to the accelerated launch date, it was through the hard work and plasticity of both the Human Element and GW Kent teams that the new site can be considered such a success. The overall user experience has significantly improved, and methods of continued improvement and growth have been identified, and a clear path toward reaching those goals set in place.
Moving forward, we are excited to see what new tasks GW Kent will bring to the table, offering the Human Element team ongoing opportunities to keep the newly launched webstore efficient and up to the standards of the ever changing eCommerce world.
Interested in learning how Human Element can help re-brand or build a new website for your eCommerce organization? Get in touch! Our team of experienced developers, digital marketing specialists, designers and optimization strategists are here to help.